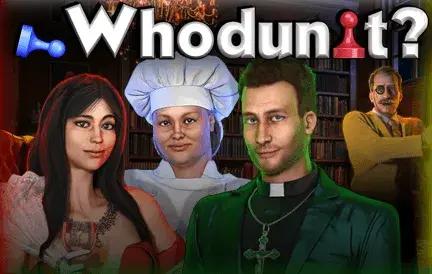 Mystery enthusiasts, prepare for an exhilarating journey into the heart of a classic detective story with the "Whodunit" slot machine at Red Dog Casino. Every spin unravels clues, takes you closer to solving the crime, and, of course, brings potential wins.
"Whodunit" impressively marries the allure of a suspense-filled narrative with the excitement of gaming. As you play, you're instantly pulled into a world of shadowy suspects, enigmatic clues, and nerve-wracking interrogations. The aesthetics, brimming with dark, moody colors and evocative symbols, paint a vivid picture of a gripping crime tale waiting to be solved. Complementing this is the captivating soundtrack that amplifies the intrigue, making every spin feel like a step deeper into the mystery.
Features that stand out in "Whodunit" include:
Detective's Diary Wilds: These can replace other symbols, helping you form those elusive winning combinations.
Mysterious Mansion Scatters: Unlocking these can lead to special bonus rounds where you can interrogate suspects for rewards.
Crime Scene Bonus: Collect evidence and get a chance to multiply your stakes substantially.
Free Spin Interrogations: These spins carry extra weight, bolstering your chances to nab the culprit and the jackpot!
The Whodunit slot machine offers players varying levels of engagement. While newcomers can enjoy the straightforward mechanics, seasoned gamblers will appreciate the depth introduced by the multifaceted bonus rounds. Red Dog Casino's inclusion of Whodunit to its repertoire underscores its commitment to delivering diverse and enthralling gaming experiences.
In conclusion, Whodunit is not just another slot game; it's an adventure waiting to be embarked upon. It's a challenge to all casino enthusiasts: Can you crack the case and claim the reward? If you've got the mettle to dive deep into this mystery and emerge victoriously, then Whodunit at Red Dog Casino is your game!