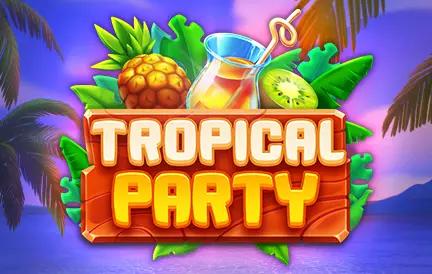 Dive into a sun-kissed paradise with Tropical Party, an oasis of fun and potential riches in the vast desert of online slots. Exclusively available at Red Dog Casino, this slot machine is not just a game, but a vibrant vacation on your screen.
Key Features:
Vibrant Visuals: Tropical Party is a visual treat with its sunny beaches, azure waters, and animated tropical fauna and flora.
Festive Bonus Rounds: The game ups the ante with beach party bonus rounds, where players can earn free spins, multipliers, and even engage in interactive mini-games.
Versatile Betting Options: Whether you're a casual beachcomber or a high-rolling party-goer, there's a stake designed for every type of player.
The standout appeal of Tropical Party is its infectious ambiance. The game's soundtrack, replete with rhythmic beats and tropical tunes, sets the tone for a laid-back yet exhilarating gaming experience. Each spin feels like a dance move, and every win is a cause for celebration, much like a beach festivity.
In addition to its festive mood, Tropical Party seamlessly integrates with the latest gaming technology. This ensures that players can soak in the tropical sun and chase their jackpots without any technical hiccups, irrespective of the device they're using.
In conclusion, Tropical Party is more than just another slot game. It's a delightful escape, transporting players to a sandy shore where the revelry never ends and fortune favors the festive. If you're seeking a gaming experience that radiates positivity, joy, and potential winnings, then Tropical Party at Red Dog Casino should be your next destination. Put on your party hat, grab a cocktail, and let the tropical adventure begin!