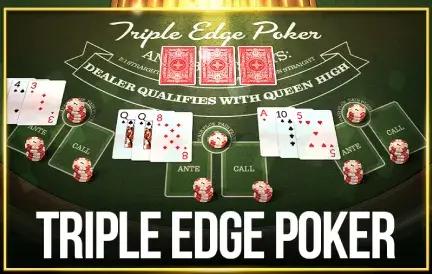 Stepping into the world of card games, one might stumble upon the enthralling Triple Edge Poker, a creation by the renowned game provider, Betsoft. This poker variant has been weaving its charm on card enthusiasts, promising a blend of strategy and luck that many find irresistible.
Triple Edge Poker stands out in the crowded landscape of poker games. Unlike the traditional versions, this one brings its own unique rules, making each round unpredictable and exhilarating. The essence of the game is to beat the dealer with a better three-card hand, but the journey to that victory is filled with strategic decisions and heart-racing moments.
Key Highlights of Playing Triple Edge Poker at Red Dog Casino:
Stunning Visuals: Betsoft never disappoints with its graphics. The game's visual elements are crisp, vibrant, and provide a genuine casino feel.
Engaging Gameplay: Each round is smooth, ensuring players are engrossed from start to finish without glitches.
User-friendly Design: Navigating through the game is a breeze, suitable for both newcomers and seasoned poker players.
Bonus Features: Triple Edge Poker incorporates side bets like 'Pair Plus' which can amplify winnings significantly.
Red Dog Casino, with its reputation for top-tier gaming experiences, is an ideal venue to enjoy Triple Edge Poker. Their platform ensures that the game's strategic depth and thrill are accentuated by a seamless gaming environment. Moreover, the regular promotions and bonuses offered by Red Dog make playing here even more rewarding.
In wrapping up, Triple Edge Poker is not just another card game in the casino's repertoire. It's a testament to how classic games can be reinvented to offer fresh excitement. If you're in the mood to take on the dealer in a game where every card dealt could change your fate, head over to Red Dog Casino and indulge in the Triple Edge Poker experience. The deck is shuffled, and the cards await your play!