Triple Double Bonus Video Poker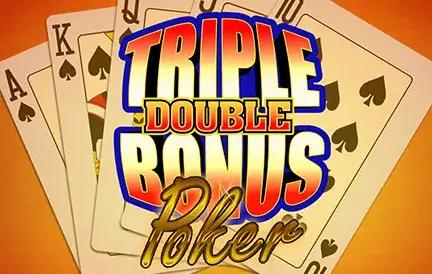 Among the expansive roster of video poker titles, Triple Double Bonus stands tall, promising players an electrifying mix of challenge and reward. Of the many platforms that offer this game, Red Dog Casino's rendition is especially worth mentioning, capturing the essence of what makes this variant exceptional.
Triple Double Bonus takes the foundational elements of video poker and adds layers of complexity through its enticing payout structure. Players are drawn to its boosted rewards for specific four-of-a-kind combinations, paired with a kicker. These elevated payouts make the gameplay tantalizing, as players grapple with decisions on which cards to hold in pursuit of these high-reward hands.
Key attributes that define the Triple Double Bonus experience:
Stellar Payouts: Enhanced rewards for specific four-of-a-kind hands, especially when accompanied by the right kicker.
Engrossing Strategy: The potential of high payouts demands a reevaluation of conventional video poker strategies.
Fluid Gameplay: Red Dog Casino offers a seamless Triple Double Bonus experience with top-notch visuals and sound.
Broad Appeal: Whether a novice or a video poker aficionado, the game's design ensures accessibility for all.
While it nestles comfortably in the video poker category, Triple Double Bonus offers a game feel that's both familiar and novel. The allure of its special payouts ensures that every hand dealt is rife with anticipation. Players are constantly on the edge, assessing and reassessing strategies, driven by the promise of those big wins.
To sum it up, Triple Double Bonus is not just another video poker game; it's an adventure in strategic gaming. It challenges players, rewards them generously, and keeps them coming back for more. For those eager to dive into this thrilling variant, Red Dog Casino is the ideal venue. Gear up to embrace the triple double challenge and may the cards be ever in your favor!