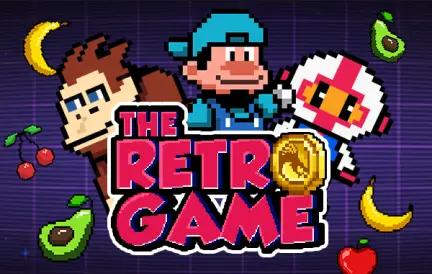 The Retro Game - Millennial Nostalgia by Dragon Gaming
The Retro Game by Dragon Gaming is a casino slot machine made for all 90-s kids and everybody who can't stop singing Peach's song since the last Super Mario movie. If you are nostalgic for those great times when a few dollars could buy a kid a whole evening of fun in the Arcada Club - we can't imagine a better game for you!
The Retro Game at Red Dog Casino has 20 fixed pay lines and five reels - a simple yet enjoyable way to revisit your childhood emotions and memories and get a more real win than just first place on the arcade's chart this time.
The Retro Game - Theme & Design and Easter Eggs
When we started this Retro Game slot review, we couldn't shake the feeling that the game looked familiar. We also were fast to forget that we were here not just for fun but also to have work to do. 
As mentioned, Retro Game slot creators were inspired by famous 80-s and 90-s and popular arcades, such as Super Mario, Donkey Kong, PackMan, Space Invaders, and even Zool! The style and characters used for the reels are clear references and work as smart Easter Eggs for true fans. 
The brilliance of the slot game is in its simple graphics and sound choices, which work so great with the theme and are fun to interact with. Even the animation for the winning combinations was made in the same style, keeping the atmosphere and mood of the old-school arcades.
Game Features - What to Expect?
We established that Retro Game slot is an excellent choice for a fun gambling evening, but let's dig into the game features so you will be well-prepared on all levels.
We start with the symbols.
Regular Symbols (the higher-paying symbols as Blue Cap Guy, Space Invaders, and Monkey, and the lower-paying symbols are an apple, a banana, and a pear);
Wild Symbol - the substitutive and the highest-paying symbol in combination with 5 landing on reels - (a pixelated spaceship icon - we guess its a nod to Space Invaders);
Scatter Symbol - the bonus round trigger symbol when landing 3 and more on reels - (a pixelated arcade machine icon).
The Retro Game by Dragon Gaming also features special bonuses to help players with bigger chances for a win, such as free spins and multipliers. Winning combinations are formed by landing matching symbols from left to right on adjacent reels - the bonus is triggered when three bonus symbols land on reels 2, 3, and 4.
When you land the random wild feature, Retro Game awards the player seven free spins and places wild symbols at random positions on each reel from left to right. It also includes a random multiplier feature, which grants five free spins.
Next, there is a matching feature that also awards five spins. During this round, every low-paying symbol transforms into a wild card and substitutes randomly selected low-paying symbols.
Finally, the mega symbols round also grants five spins and allows a 3×3 block symbol to appear, which makes big wins on multiple lines a genuine possibility.
Paytable and Winning Combinations - How to Win at The Retro Game Slot
Coming back to the most important stuff: how to win the game! It doesn't matter if you are a new gambler or have some experience. You probably already know that winning in online slots is pure luck. It doesn't mean that you can increase your chances, though!
First, remember to check the rules, the pay table, and the game's winning combinations. Here is some of the necessary information below:
Pixelated spaceship – 1,000x;
Blue cap guy – 1,000x;
Monkey – 500x;
Space Invader – 400x;
Apple – 150x;
Banana – 150x;
Pear – 150x.
Another piece of advice for good game results is to be careful with the betting and your budget for the game. One of the first rules of the gambler is to play for fun - not for earning so that the game will be pleasant.
FAQ
Does The Retro Game have a progressive jackpot?
Unfortunately, The Retro Game slot machine does not have a progressive jackpot. But it has a gambling feature, a wild multiplier, and free spins, which would help any player score a bigger win.
How to play The Retro Game at the Red Dog Casino for free?
Every Red Dog Casino slot has an extensive variety of bonus games, free spins, and mega symbols rounds, using which each player could play Retro Game online slot for free. Unfortunately, this game's demo version is unavailable on the website, so you can only play The Retro Game for real money now.
What is the best trick to win at The Retro Game slot?
The Retro Game was created to be fair and hard to trick, so every win would result from great gambling skills and pure luck. Make sure to follow the basic gambling rules, stay within the budget, and, most important - have fun - this is the best advice for real gambling success.
Can I play The Retro Game on my mobile phone?
Yes, you can! Unfortunately, the Red Dog Casino doesn't have a mobile application for the casino, but you can still access it via any mobile device by using the internet browser. 
Conclusion
To summarize our review, we would like to mention that slots have one of the most popular and wide selections among other online casino games, and it's getting harder and harder to pick one to play. The Retro Game has it all: it's fun, simple, easy to navigate, and enjoyable. You can treat your inner child with a great nostalgic game and pick up some cash along the way - this is one of the main reasons Retro Game slot is so popular and worth your time.