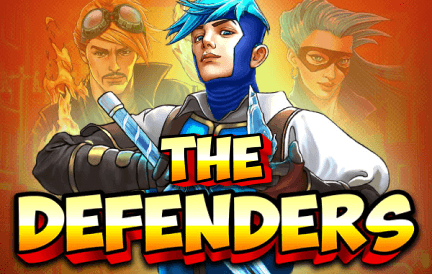 Are you ready for an adventure that takes you back to the electrifying 80s? Join hands with the magnificent Defenders and prepare to save the world in this thrilling online slot game. Developed by Dragon Gaming, this slot boasts five reels, three rows, and ten fixed pay lines, setting the stage for an adventure unlike any other.
With a Return to Player (RTP) rate of 95.43%, it promises excitement and rewards for players daring enough to assist these mighty heroes. But that's not all – the game features an array of thrilling bonuses, including free spins and a bonus pick feature. So, if you're ready to help the Defenders fight off villains, read on. The Defenders slot review will dive deep into what this slot game is about, discovering what it takes to be a true champion.
Theme & Design
The Defenders is a thrilling casino game that takes players to a land of superheroes and supervillains. The central theme revolves around the epic battle between the Defenders, the heroes of the story, and their infamous opponents. The game's design draws inspiration from classic 1980s cartoons and comic books, creating a nostalgic player experience.
The background and additional artwork within the game maintain this aesthetic, with faded pastels and bright primary colors dominating the palette. In terms of color symbolism, blue is associated with the forces of good, represented by the Defenders, while orange signifies evil, embodied by the antagonistic characters.
The game's layout is designed for both accessibility and excitement. The main gameplay screen typically features a 5x3 grid of spinning reels, each adorned with colorful symbols representing heroes, villains, and other thematic elements. Below the reels, players will find user-friendly controls to adjust their bet size, spin the reels, and access other game features.
Gameplay Features
The Defenders by Dragon Gaming is packed with thrilling gameplay features that keep players engaged throughout their gaming experience. Among these features are wilds, multipliers, free spins, ultra spins, and the presence of special guests.
All you need to do is land three or more scatter symbols on the reels, and you can unlock the highly anticipated bonus round, consisting of 10 free spins. Various bonus picks are up for grabs within this round, adding more fun to the gameplay.
These bonus picks can take different forms, such as additional free spins, multipliers to boost your winnings, character symbols that act as wilds during the free spins, and the intriguing special quest.
Speaking of the special quest, players have the chance to choose from three different rewards:
additional free spins with five bonus picks;
ultra spin feature;
instant payout worth 200x the stake.
The Defenders at Red Dog Casino offers a variety of bonus features to keep players engaged:
Free Spins
Players can get up to 10 free spins triggered by landing three or more bonus symbols. These are accompanied by a set number of bonus pick features based on the number of bonus symbols landed.
3 bonus pick features and 10 spins: 3x bonus;
4 bonus pick features and 10 spins: 4x bonus;
5 bonus pick features and 10 spins: 5x bonus.
You can retrigger these free spins during the free spins round, adding to the excitement.
Bonus Pick Feature
This feature introduces an element of strategy and choice. A player can select from various options, including turning the orange 'enemy' symbol into a wild during the free spins. It also awards multipliers of up to 4x, causing the 'enemy' symbol to expand vertically on the reels and even additional free spins.
Special Quest
The Defenders slots offer three special features you can trigger during the free spins round. These include a guarantee of three wins containing superhero character symbols and five consecutive wins during the free spins game. Plus, 10 bonus symbols will appear during the free spins game, enhancing the potential for significant rewards.
Winning the Game
Winning a slot game like The Defenders is primarily based on luck. However, you can enhance your winning chances with the following tips.Set a Budget
Before playing, decide on a budget you're willing to spend. Stick to it, and don't chase losses. Slot games are designed for fun, and playing responsibly is essential.
Bet Wisely
The maximum bet is $90.00, while the minimum for all ten pay lines is 20c. Adjust your bets according to your budget. Indeed, higher bets often translate into bigger wins, but they also come with higher risk.
Paylines and Winning Combinations
You must land two or more identical symbols on a payline to win in The Defenders for real money. The Iceman symbol can provide a win as a pair, while others typically require a larger cluster. Winning combinations are formed when at least three similar symbols or characters appear on adjacent reels from left to right. Here are the payouts for a few matching symbols:
| | | | | |
| --- | --- | --- | --- | --- |
| Blue male superhero | Orange male enemy/ Blue female superhero | Blue iceball | Orange fireball | Pink spade/ Green club/Red heart/ Blue diamond |
| 2x = 10 | 3x = 20 | 3x = 15 | 3x = 15 | 3x = 10 |
| 3x = 25 | 4x = 50 | 4x = 40 | 4x = 40 | 4x = 25 |
| 4x = 75 | 5x = 100 | 5x = 75 | 5x = 75 | 5x = 50 |
| 5x = 150 |   |   |   |   |
Take Advantage of Features
Look for features like Free Spins, multipliers (up to 4x the bet), wild symbols, expanding character symbols, and special quests. These features can quickly add to your winning streak and make the game more exciting on your mobile.
Practice for Free
Since the game offers demo free slots, take the time to play The Defenders online slot for free. It will help you familiarize yourself with the gameplay and features without risking real money.
Remember that a slot machine is designed to be random and unpredictable, so there is no foolproof strategy to win consistently. It's essential to play responsibly and within your means while enjoying the game's entertainment value.
FAQ
How can players trigger the bonus round?
You can trigger the bonus round by getting your hands on three or more scatter symbols, which grants them up to 10 free spins. Players can access bonus pick features during the bonus round, including extra free spins, multipliers, character symbols acting as wilds, and a special quest.
What is the Return to Player (RTP) rate of The Defenders slot game?
The Defenders slot game has an RTP rate of 95.43 percent.
How many pay lines are there in The Defenders slot game, and what are the minimum and maximum bets?
The game features ten fixed pay lines, with a minimum bet of 20c and a maximum bet of $90.00.
Conclusion
The Defenders by Dragon Gaming offers an electrifying 80s adventure with a 95.43% RTP rate, promising excitement and rewards. The game's superhero-themed design and nostalgic aesthetic create an immersive experience.
Its gameplay features, including free spins, multipliers, and special quests, keep players engaged. While winning depends on luck, setting a budget, betting wisely, and taking advantage of game features can enhance your experience. Remember to play responsibly and enjoy the entertainment value of this fantastic slot game.