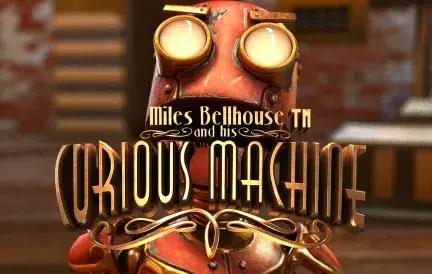 Step into a world of whimsical inventions with The Curious Machine Plus, an innovative slot machine proudly presented at Red Dog Casino. This game transports players into a steampunk-inspired universe, where gears, gadgets, and time travel intertwine to create an unforgettable gaming experience.
The Curious Machine Plus is a marvel of design, featuring intricately detailed symbols that reflect the essence of a tinkerer's workshop. From swirling cogs to futuristic timepieces, each spin unveils a new mechanical wonder.
Key Gears of Features:
Time Warp Wilds: These shifting symbols act as a gateway to alternate winning timelines.
Vortex Free Spins: Engage three or more vortex symbols and watch as the reels spin uncontrollably, granting bonus rounds in the process.
Blueprint Bonus Round: Discover the inventor's secret blueprints, unlocking a treasure trove of mechanical rewards.
The background soundscape perfectly complements the theme, blending the hum of machinery with the occasional hiss of steam and clinking of metal. The excitement of discovery is accentuated by the crescendos of orchestral music accompanying big wins.
Red Dog Casino's decision to include The Curious Machine Plus in their slot machine offerings speaks volumes about their ambition to provide diverse, narrative-driven games. It's not just about the thrill of the spin but the story that unfolds with each play.
In conclusion, The Curious Machine Plus is a delightful fusion of steampunk aesthetics and slot gaming. For those with an insatiable curiosity for the unknown and a penchant for the mechanically wondrous, this slot machine at Red Dog Casino offers an adventure like no other. Gear up, spin the reels, and let the machine's wonders unfold before your eyes!