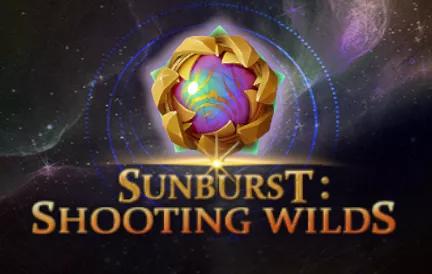 Prepare to be dazzled by the scintillating spectacle of Sunburst: Shooting Wilds, an electrifying online slot game available at Red Dog Casino. This visually stunning slot game takes players on a cosmic journey through space, offering a unique and thrilling gameplay experience. Sunburst: Shooting Wilds is a must-play for avid slot lovers and casual players alike with its innovative mechanics, mesmerizing graphics, and potential for astronomical wins.
For your space-faring troubles, you will get: 
high volatility; 
RTP of 96.1%; 
freespin options; 
autoplay; 
fast spin "Turbo" mode; 
10 Paylines; 
minimum bet of $0.1; 
the maximum bet of $100.
Behold the Beauty of the Universe From the Comfort of Your Home
Sunburst: Shooting Wilds at Red Dog Casino transports players to the far reaches of the universe, where celestial bodies, shooting stars, and nebulous galaxies paint a mesmerizing backdrop. The game's captivating graphics and vibrant colors create an immersive experience engaging the senses from the first spin. Combined with an otherworldly soundtrack that heightens the anticipation, players will find themselves spellbound as they venture deeper into this cosmic realm.
DiceLab has designed Sunburst: Shooting Wilds slot machine with user convenience in mind. The game boasts a user-friendly interface that is easy to navigate, allowing players to focus on the cosmic action without any distractions. Moreover, Sunburst: Shooting Wilds is fully optimized for mobile play, enabling players to embark on their celestial adventure from anywhere at any time.
Navigating Your Way Through the Stars
Sunburst: Shooting Wilds by DiceLab is a high-volatility slot game, meaning players can experience significant swings in their gameplay. While it requires patience and a sense of adventure, the rewards are worth the journey. Combining shooting wilds, expanding wilds, sunburst respins, and cosmic free spins can lead to astronomical wins, leaving lucky players with a supernova of riches.
Shooting Wilds takes excitement to the next level with its Sunburst expanding wilds feature. When a wild symbol appears on the reels, it has the potential to expand and cover the entire reel, turning it into a wild reel. The expanded wilds lead to a cascade of winning combinations, making it rain cosmic coins and thrilling players with massive payouts. 
The celestial adventure doesn't end there! Sunburst: Shooting Wilds introduces the captivating "Random Wilds" feature, adding another layer of excitement to the gameplay. Whenever a sun symbol lands on the reels, it triggers a respin, locking the sun in place while the other reels spin again. The chance of landing more sun symbols increases with each respin, potentially leading to a sunburst explosion and even greater rewards.
Hold on to your spacesuits as the cosmic journey continues with the "Cosmic Free Spins" feature. Triggered by landing three or more scatter symbols, this bonus round takes players to a higher plane of excitement. During the free spins, the shooting wilds are even more frequent, and the sunburst respins feature can still come into play, creating a cosmic storm of wilds and boundless winning opportunities.
FAQ
Is there an option to Play Sunburst: Shooting Wilds online slot for free?
There is no conventional way to play the game for free currently at Red Dogs. However, the game features two separate mechanics that can grant you free spins. With those mechanics not being too difficult to trigger, you have a decent chance of making your whole play session free, even though you will be playing Sunburst: Shooting Wilds for real money.
What about mobile compatibility and user experience?
Sunburst: Shooting Wilds is fully optimized for mobile play, allowing you to embark on your celestial journey from your smartphone or tablet, no matter where you are!
What does high volatility mean for a game like Sunburst: Shooting Wilds slots?
With its high volatility, Sunburst: Shooting Wilds offers the potential for significant payouts. The combination of shooting wilds, expanding wilds, sunburst respins, and cosmic free spins can lead to astronomical wins, making it a thrilling pursuit for those seeking big rewards.
Final Opinion
Sunburst: Shooting Wilds is a stellar addition to Red Dog Casino's impressive lineup of online slot games. With its innovative shooting wilds mechanism, cosmic visuals, and the potential for colossal wins, the game offers an exhilarating gaming experience that will leave players starstruck. Whether you're an experienced slot enthusiast or a casual gamer seeking cosmic thrills, Sunburst: Shooting Wilds will captivate your imagination and transport you to the furthest reaches of the galaxy. Embark on this celestial adventure today and witness the sunbursts of untold riches awaiting you!