Stones And Bones Video Slot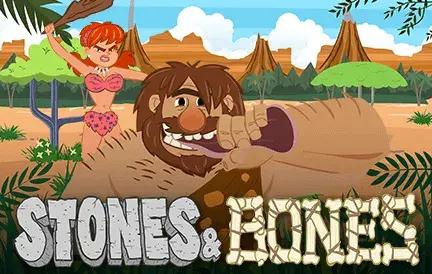 Journey back in time with Stones And Bones, an enthralling prehistoric adventure that promises a blend of excitement, history, and big wins. Nestled among the premium offerings at Red Dog Casino, this slot machine sets players on a quest to uncover ancient treasures hidden beneath rocks and relics.
With Stones And Bones, players are thrust into a world where cavemen roam, and dinosaurs are more than just fossilized memories. The backdrop is vividly rendered, showcasing a vibrant, primeval world, and the symbols – ranging from tribal tools to ferocious beasts – capture the essence of a time long gone.
Prime features of Stones And Bones include:
The 'Caveman' wild symbol, which can replace other symbols for enhanced combinations.
Scatter symbols, designed as 'Cavewomen', unlocking free spin sequences.
The 'Dinosaur Bonus' round, offering players a chance to choose relics for instant rewards.
An immersive soundtrack that pulsates with primal rhythms and roars.
This slot machine is not only visually appealing but also ensures smooth gameplay with an easy-to-navigate interface. Players can easily adjust their bets, spin, and embark on this ancient journey without any hitches. Moreover, the impressive RTP guarantees that this prehistoric expedition is not just for sightseeing – it's also ripe with opportunities to amass significant rewards.
In conclusion, Stones And Bones is an artistic marvel that effectively transports players back to a captivating epoch. It strikes a harmonious balance between evocative visuals, engaging gameplay, and rewarding mechanics. If you're eager to don your explorer's hat and embark on a quest into the past, look no further than Red Dog Casino.
Join the caveman's crew, discover forgotten treasures, and let Stones And Bones offer you a gaming experience that's truly epochal!