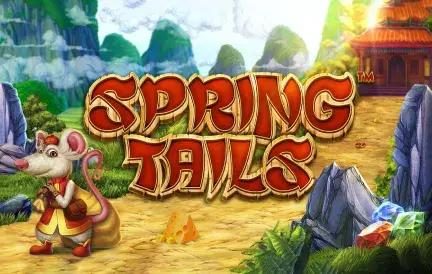 Usher in the season of bloom and rebirth with Spring Tails, an offering from Red Dog Casino that's bound to put a spring in your step. This slot machine, infused with the vibrant essence of the season, provides an invigorating gaming experience and a refreshing way to hunt for wins.
Spring Tails captivates from the first spin with its bright and lively graphics. Set against a serene countryside backdrop, the reels are alive with symbols of springtime: chirpy birds, blossoming flowers, and lively critters. The animation is fluid, with each spin resembling a gentle breeze that stirs the season to life.
The soft melodies accompanying the gameplay add to the game's charm. The harmonious tunes and chirrups perfectly encapsulate the spirit of spring, making each play a delight to the senses.
Highlighted Features of Spring Tails:
Budding Wilds: These symbols bloom on your reels, expanding to enhance your chances of a winning combination.
Free Spins Meadow: Secure this feature, and you're transported to a sunny meadow, offering you free spins and heightened opportunities for rewards.
Critter Multipliers: These cheeky creatures can hop onto the reels, multiplying your winnings with their antics.
Seasonal Bonus Rounds: Engage in different spring-themed tasks, earning bonus points as you bask in the season's glow.
In conclusion, Spring Tails is not merely a game; it's a celebration of the season's vibrancy and zest. Red Dog Casino, renowned for its diverse game collection, once again hits the mark with this slot machine. For those seeking a refreshing gaming experience and the allure of bounteous rewards, Spring Tails is the perfect pick. So, embrace the season, let the springtime tales unfold, and watch your fortunes blossom!