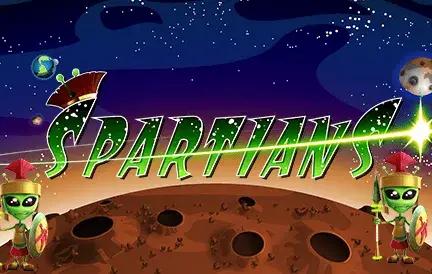 Prepare for an intergalactic battle like no other with Spartians, an intriguing fusion of ancient Spartan warriors and futuristic extraterrestrial landscapes. Red Dog Casino, in its quest to bring novel themes to its patrons, introduces this avant-garde slot machine, ensuring that every spin is an adventurous escapade.
Spartians is not your typical slot game. Its ingenious blend of historical and sci-fi elements immediately captivates the players, taking them on a whirlwind journey across space and time. The vibrant graphics are truly out of this world, presenting a version of Mars where Spartan warriors donned in alien armor, ready for an outer space battle.
Highlights of Spartians include:
Stellar graphics that intricately combine the classical with the cosmic.
Unique alien-Spartan symbols, giving a twist to the traditional slot icons.
Galactic bonus features that promise free spins, multipliers, and massive wins.
A riveting soundtrack that immerses players in the extraterrestrial ambience.
Playing this slot machine feels like being a part of an epic space odyssey. The game interface is seamless, ensuring that players, whether beginners or seasoned gamblers, navigate with ease. Apart from its eye-catching design and innovative theme, Spartians also boasts a competitive RTP, promising lucrative rewards to those brave enough to join the cosmic war.
In wrapping up, Spartians is a testament to the creativity of modern slot games, blurring the lines between genres and offering a unique gaming experience. For those in search of something different, something that combines the valor of ancient warriors with the thrill of space conquests, Spartians is a must-try at Red Dog Casino.
Embark on a space voyage with the mighty Spartians and conquer galaxies, one spin at a time!