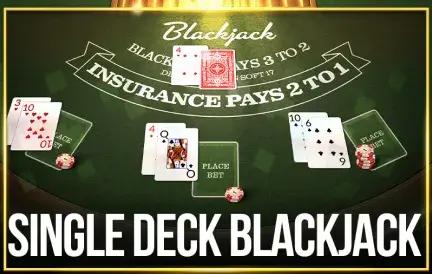 For purists of the game, Single Deck Blackjack offers the unfiltered essence of Blackjack. Betsoft's version, available at Red Dog Casino, remains true to this purity, while adding its signature touch of modern-day finesse and sophistication.
Betsoft's rendition of Single Deck Blackjack is a nod to the days when Blackjack was played in its simplest form, using just one deck of cards. This stripped-down version brings strategy to the forefront, demanding more from players in terms of skill and tactics.
Distinctive features of Betsoft's Single Deck Blackjack are:
A game played with just one deck, emphasizing raw skill and strategy.
A compelling live dealer option, ensuring players experience the thrill of a live casino.
Fluid graphics and transitions, showcasing Betsoft's commitment to quality gaming.
The allure of Single Deck Blackjack lies in its stark simplicity. With only one deck in play, card counters find it more enticing, and every hand dealt holds more weight. The live dealer feature, which is always a magnet for players, intensifies the realness of the game. This live interaction transports players to the heart of casino action, making every hit, stand, or double down feel monumentally important.
To wrap it up, Single Deck Blackjack by Betsoft, featured on Red Dog Casino, is an ode to the foundational elements of Blackjack. With its back-to-basics approach, combined with the state-of-the-art live dealer experience, it serves both novices and Blackjack veterans. If you're seeking an authentic Blackjack experience, devoid of frills and distractions, then Single Deck Blackjack is the game to play. Challenge yourself, engage with the dealer, and immerse in the classic charm of this iconic game.