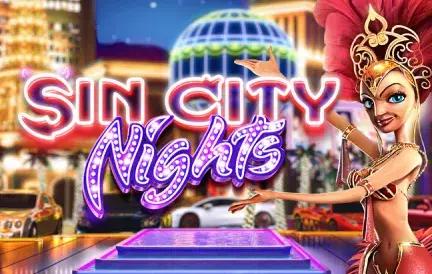 Enter the neon-lit world of Sin City Nights, an exhilarating game that captures the essence of Las Vegas nightlife and brings it directly to your screen. Exclusively available at Red Dog Casino, this slot machine pulsates with energy, mirroring the heartbeat of the world's entertainment capital.
Sin City Nights dazzles players with its glitzy visuals reminiscent of the famous Las Vegas Strip. The game's symbols, ranging from shimmering sevens to neon-lit cherries, paint a vivid picture of a night in the city that never sleeps. As the reels spin, players are treated to a soundtrack that's as lively and invigorating as Vegas itself.
Features that make Sin City Nights stand out:
Neon Multipliers: Light up your winnings with increasing multipliers.
Glittering Free Spins: Experience the thrill of Las Vegas without spending a dime.
Respin Feature: Hold onto your seats, as the game gives you another chance to win.
Flashy Animations: A visual spectacle that keeps players engaged and entertained.
Beyond its entrancing graphics and sound, Sin City Nights promises solid gameplay mechanics. The features are designed not only to enhance the player's experience but also to provide ample opportunities for significant wins.
Red Dog Casino's decision to feature Sin City Nights in their gaming roster showcases their commitment to providing top-tier entertainment. As with their other offerings, this slot machine reflects quality, excitement, and the potential for big payouts.
To wrap it up, Sin City Nights offers more than just a gaming experience; it's a journey to the heart of Las Vegas. If the allure of neon lights, bustling casinos, and the promise of big wins call out to you, then Sin City Nights is the game to play. Roll the dice, spin the reels, and let the magic of Las Vegas unfold before you.