Sea Treasures Scratch Card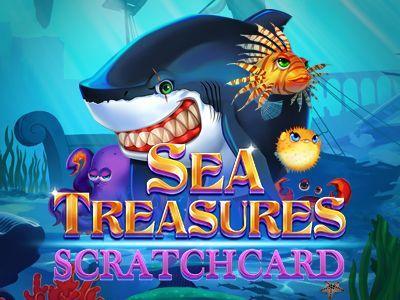 Plunge into the mystical depths of the ocean with Sea Treasures Scratch Card, a captivating offering from DragonGaming. This game beckons players to embark on a nautical adventure, where hidden treasures lie beneath every scratch, awaiting discovery.
Sea Treasures Scratch Card is a blend of mesmerizing marine visuals and the classic excitement of scratch card games. With its vivid imagery of marine life and the lure of hidden chests filled with gold, DragonGaming has crafted a game that is both visually alluring and packed with potential rewards.
Reasons to set sail with Sea Treasures Scratch Card:
- Marine Magic: Delight in a beautifully designed underwater realm, teeming with vibrant sea creatures and ancient artifacts.
- Immediate Rewards: True to its scratch card lineage, the game promises the thrill of instant wins, making each scratch a potential jackpot.
- Varied Stakes: From cautious novices to seasoned sailors, the game offers a range of betting options to suit every player.
Key Features to Dive Into:
1. Coral Cove Multipliers: Uncover these to boost your winnings to greater depths.
2. Mysterious Marine Symbols: These can trigger exciting bonus rounds or unveil hidden rewards.
3. Live Dealer Experience: To enhance the immersion, Red Dog Casino presents Sea Treasures Scratch Card with a live dealer option, allowing players to feel the thrill of real-time gaming amidst the virtual marine wonder.
To conclude, Sea Treasures Scratch Card by DragonGaming is an undersea odyssey that casino game enthusiasts shouldn't miss. Its harmonious blend of enchanting marine visuals, the classic allure of scratch card gameplay, and the potential for bountiful treasures ensures a gaming experience that keeps players coming back for more. Ready to dive in and uncover the ocean's hidden riches? Sea Treasures awaits!