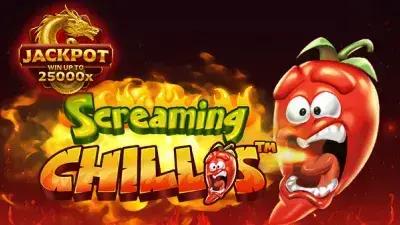 Turn up the heat and get ready for a fiery gaming experience with Screaming Chillis, a slot machine that promises both sizzle and thrill. This game seamlessly combines the excitement of slots with the fiery essence of the world's hottest peppers.
When you fire up Screaming Chillis at Red Dog Casino, you're immediately met with blazing graphics, vivid animations, and a soundtrack that's as spicy as the game's theme. Beyond its scorching aesthetics, this slot machine guarantees an adrenaline-pumping gaming experience with its unique features.
Hot Features of Screaming Chillis:
Blazing Wilds: The red-hot chili acts as the wild, igniting the reels and boosting potential payouts.
Spicy Free Spins: Land the flaming scatter symbols, and you're treated to a round of free spins that can lead to sizzling wins.
Heatwave Multipliers: As the temperature rises, so do your winnings, thanks to these fiery multipliers.
In a nutshell, Screaming Chillis is not just another slot game; it's a rollercoaster of high-octane excitement and blazing rewards. For those daring enough to handle the heat and crave the thrill of a fiery gameplay experience, this game is a must-try. Head over to Red Dog Casino, take a spin on this exhilarating slot machine, and see if you can handle the heat of Screaming Chillis!