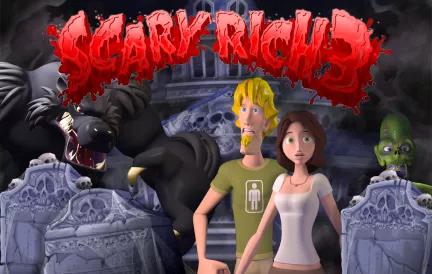 In Scary Rich 3 by Rival Gaming, the third part of the Scary Rich trilogy, a couple and their best friend enter a haunted mansion, and you know a lot of awful stuff is about to come their way. You can give yourself a nice scare whenever you dare to play this slot game, and you can do it anywhere and anytime because it is typically compatible with most modern gadgets!
Of course, the good news is that uncovering that spooky stuff will earn you a ton of goodies. Skulls, clanging keys, floating lanterns, knight's helmets, and spooky green monsters are all hiding places. Additionally, players can expect plenty of bonus features and other perks; follow the full Scary Rich 3 slot review below to know what they are!  
Graphics & Design       
A frightening mansion surrounding the reels serves as an outline for Scary Rich 3. The blood stains and spiderwebs that cover the buttons and border areas add to how spooky this looks. As soon as you start spinning the reels, blood splatters every icon. When a winning combination is obtained, each of the animated icons shows a different scene through the camera lens.
Scary Rich 3 includes icons from two camps; those that are scary and those that are scared. There are men, women, and a ghoul with a green head that is cowering. Other symbols include werewolves, gory cleavers, haunted suits of armor, crazy professors, skulls, keys, cameras, lamps, and more.
Core Gameplay         
Don't wait too long before approaching the haunted mansion that serves as the setting for this spooky slot machine, or you might be attacked by an elm tree that suddenly jumps out of the earth to harm you. In addition, there are many hidden cobwebs and skulls, and the fog is getting thicker, impairing your view.
However, as the reels spin and blood appears in every position, you'll quickly grow even more frightened. What's more, when you notice that the top prize symbol is a bloodied cleaver, you can't help but wonder who has been murdered.  
If you wish to leave with rewards, especially when playing Scary Rich 3 for real money, your task is to line up 3 to 5 identical prize icons. You can win:
up to 60 coins for a skull;
100 coins for a handsome fella;
200 coins for a plump chap wearing a baseball cap.
Additionally, there are as many as 300 coins for the clanging keys, 400 for the green creature that resembles the Grinch, and 600 for the attractive girl because you can't kill her off too soon.
In-Game Extras         
The number 666 in the Omen used to give everybody the creeps, but if those three 6s are a sign that you'll get 666 bonus spins, then every player should be more than excited to see them. Finding five insane professors will grant you that absurdly high amount of free spins while finding just four will still give you 66 spins, and finding just three will still give you six.
During regular play, it's a good idea to indulge in a hearty serving of Wild Werewolves because any Werewolves that substitute into a rewarding line will also serve as a multiplier. Your award will be multiplied by two to double it, three to multiply it by five, and four to double it by ten. Sadly, those 666 free spins don't include any multipliers.
The Scary Rich 3 at Red Dog Casino has 50 paylines instead of what it had in the first two parts, which increases your chances of succeeding by giving you many more chances to win on every spin. In addition, you can combine the 1 to 5 coins and 0.01 to 0.25 coin-value selections to your liking because all winnings are increased by your line bet as well.
FAQ         
Is Scary Rich 3 mobile-friendly?         
No matter what mobile device you prefer, you may enjoy the Scary Rich 3 slot machine through your browser anytime. Without any restrictions or limitations, every player can enjoy the game.    
What is the Scary Rich 3 RTP rate?         
The Scary Rich 3 game RTP rate is 93.85%.  
Can I play Scary Rich 3 online slot for free?                 
A demo version is available, so you can play the game for fun without feeling rushed.  
Bottom Line         
The first two Scary Rich slots were top-rated. With its 3D graphics and spine-chilling sound effects, this one adds something fresh to the party. Werewolf wilds significantly improve both regular and bonus spins. So why are you still waiting? Play Scary Rich 3 slots and enjoy all the thrill and new rewards!