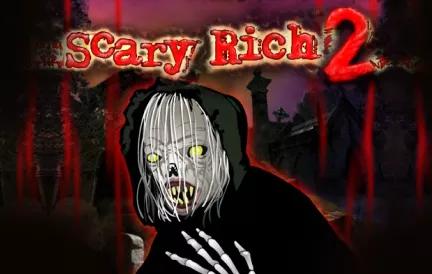 To make it more in the sinister spirit, Scary Rich 2 by Rival Gaming was released just a few days before Halloween. The slot machine followed the original Scary Rich video game's success. Since then, it has become one of the most played slots in online casinos hosted by Rival. Scary Rich 2 adds a heady degree of complexity that will fascinate any slot lover, with 5 reels, 20 paylines, and various special symbols and bonuses.  
We'll review the fundamentals of playing the game and the significance of its numerous symbols and bonuses in the following Scary Rich 2 slot review. We'll also go through the slot machine presentation, including the graphics, audio, and core gameplay.
Graphics & Design 
The presentation and graphics of Scary Rich 2 slots are among its most attractive qualities. A video intro will welcome you to the game when you first log in (of course, you can skip it, but we recommend watching it to immerse into the atmosphere more). The mysterious symbols used on the reels are the second thing you'll notice immediately. Along with the coffins and werewolves, there are evil clowns, dolls, black cats, vampires, Frankensteins, witches, and butcher knives. The title is shown in an eerie blood red, and when you move your cursor over the red buttons, they shake.  
When a constant water drip and creepy house music play in the background, each rotation causes thunder. The images and ominous audio combine to produce a horrifying atmosphere.
Core Gameplay   
With a maximum bet across all 20 paylines, Scary Rich 2 is a 200-coin slot machine. Rival has set the minimum wager at just $.01, but you can use the following coins:
Hence, the maximum wager across the 20 paylines might be between $2 and $50.
After you start Scary Rich 2 at Red Dog Casino, you'll notice a row of red buttons at the bottom of the screen. The first two buttons, a minus, and a plus, from left to right, allow you to adjust the worth of your coins. The "Choose Coins" option will appear; use it to decide how many coins you want to wager per spin. To select the paylines you want to gamble on, click the "Select Lines" option. To the left and right of the reels are numbers (1 to 20). They can also be utilized to decide how many paylines there will be.
The "Bet Max" button causes the reels to spin while setting your coins to 10 and your paylines to 20. If not, press the big "Spin" button. There is a little "Auto" button located between the "Bet Max" and "Spin" buttons. But if you want to use that function, you must play Scary Rich 2 for real money. Click one of the two "See Paytable" buttons at the top of the window whenever you want to see the pay table for Scary Rich 2.
In-Game Extras    
In Scary Rich 2, the Scatter symbol is a Werewolf. It is the symbol you should be aiming for because it is enriching. Their growing function is incredibly lucrative.
In this game, the Coffin symbol serves as the Wild symbol. When Wild symbols spread, your rewards can be multiplied by up to thirteen times. Unless it is a scatter win, the Coffin completes a winning combination. This exclusion is because the Scatter symbol cannot be replaced anywhere by the Coffin symbol.  
A great combination of Wild Coffins and Scattered Werewolves can allow you to win vast sums of money. Try not to leap as they snarl in celebration, as this will start the Free Spins Bonus of 13 free spins when 3 or more Scattered Werewolves are present. All Wild Coffins will also expand during your Free Spins to increase your chances of winning more prizes, and all winnings will receive a 3x multiplier.
The Wild Coffins may seem to be avoided because they contain bodies when they open up, but they do provide some pleasant surprises because of some significant multipliers when used in regular play. For example, one wild substitute will result in a reward multiplier of x3, and two wild substitutions will result in a prize multiplier of x6. Nevertheless, things only get better from there because a prize will be increased by 13 times if there are three wild substitutions, which is fantastic unless number 13 is not lucky for you! In addition, when four or five Wild Icons appear in a row, the Wild Coffins slot machine pays out 1,000 or 10,000 coins, depending.
FAQ   
Is Scary Rich 2 mobile-friendly?   
Sure. Players can use any mobile device to play Scary Rich 2 without limitations.
What is the Scary Rich 2 RTP rate?    
The Scary Rich 2-game RTP rate is 95.49%.    
Can I play Scary Rich 2 online slot for free?            
Of course. You can play using a demo version for fun without registering or depositing any money.    
Bottom Line    
The Scary Rich 2 is a surprisingly spooky (and enjoyable!) experience. Even as you make winning combinations, Rival Software has created the game to make the hair on your neck stand up. The multiplier impact and additional complexity the Wild and Scatter symbols provide appeal to us. However, the game's startlingly impressive audio and visual presentation is what really got us.