Saiyan Warriors Scratch Card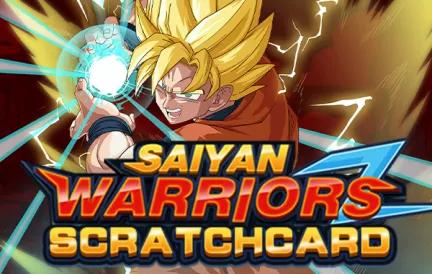 Prepare to unleash your inner Saiyan as we dive into the action-packed world of Saiyan Warriors Scratch Card at Red Dog Casino, a thrilling Dragon Ball Z-themed scratch card game. This exciting creation brings the iconic characters and intense battles of the Dragon Ball universe to online gaming, offering fans and newcomers an opportunity to scratch and win in the Saiyan style.
One of the remarkable features of the Saiyan Warriors Scratch Card is the seamless integration of your winnings into your account balance. As you play, your Total Win is displayed on the lower part of the screen after each game, allowing you to keep track of your success.
So, whether you're a seasoned Dragon Ball Z enthusiast or someone looking for an electrifying scratch card experience, Saiyan Warriors Scratch Card by Dragon Gaming promises an adventure filled with suspense, thrills, and the chance to win big. Prepare to power up and join us on this Saiyan quest for riches.
Graphics and Design 
In Saiyan Warriors Scratch Card, the visual experience takes center stage, immersing players in the captivating world of Dragon Ball Z. The game pays homage to the beloved anime series, embracing the iconic art style that fans know and love. From the moment the game loads, you're transported into the dynamic universe of Saiyan warriors, ready to embark on a thrilling adventure.
Each panel is memorable, showcasing the most iconic characters from the series in all their glory. As you scratch off the top surface of the card, you'll reveal legendary characters such as Goku, Vegeta, Piccolo, and Frieza, each meticulously rendered in vivid detail.
The vibrant colors capture the essence of the Dragon Ball Z world and infuse the game with an electrifying energy. While staying true to the anime's aesthetics, the design has been updated to cater to a modern audience, resulting in a visually stunning and immersive experience.
Saiyan Warriors Scratch Card isn't just a game; it's a Saiyan showdown that brings the thrill of Dragon Ball Z to your screen, offering fans and casual gamers a captivating visual spectacle as they scratch their way to potential riches. Whether you're a Saiyan warrior at heart or just appreciate fantastic visuals, this game promises an exhilarating feast for the eyes.
Unlocking your Ultra-Instinct
It's time for the essential part of our Saiyan Warriors Scratch Card game review - actual gameplay. Straightforward rules and mechanics govern your journey to Saiyan riches. The gameplay is as exciting as simple, offering an accessible and engaging experience for players of all levels. 
Here's a breakdown of the key rules and mechanics. 
Match to Win: Your path to victory is clear—match three symbols anywhere on the card to secure your win. The more you match, the closer you get to unlocking the Saiyan treasures hidden within. 
Limit of Three: The maximum number of identical symbols on a single card is three. This rule adds an extra layer of strategy to your gameplay as you aim to maximize your matching potential. 
Variety Pays: The game allows winning with groups of 1, 2, or 3 different symbols on the same card. In these instances, the winnings for each group of three symbols are summed, delivering your total win for the card. 
Scatter Symbol: While the Saiyan warriors are central to your winning combinations, the Scatter symbol doesn't generate wins alone. 
Pay-Outs and Multipliers: Your winnings are calculated by multiplying the multiplier value won by your total bet amount. The pay table guides you on the various multipliers available, offering insights into potential prizes. 
These rules and mechanics make Saiyan Warriors Scratch Card an accessible and entertaining game for fans of Dragon Ball Z and scratch card enthusiasts. Whether hunting for Saiyan treasures or enjoying varied gameplay, this scratch card offers a fusion of fun and winning potential. Try a demo first to understand how all these features work, though.
FAQ 
How do I win in Saiyan Warriors Scratch Card? 
To win, you need to match three symbols anywhere on the card. Each symbol represents a different character from the Dragon Ball Z universe. Matching these symbols will unlock various wins.
Can I have more than three identical symbols on a card? 
No, the maximum number of identical symbols allowed on a single card is three. This rule adds strategy to your gameplay, encouraging you to diversify your matches.
Is Saiyan Warriors Scratch Card available on mobile devices? 
Yes, the Saiyan Warriors Scratch Card is fully compatible with mobile devices. Whether you're using a smartphone or a tablet, you can experience the excitement of the game on the go. Responsive design and modern technology ensure smooth gameplay on various mobile platforms, allowing you to enjoy the thrill of Saiyan action anytime, anywhere. Moreover, you can play Saiyan Warriors Scratch Card for free on any device!
Final Thoughts 
In Saiyan Warriors Scratch Card, the thrilling world of Dragon Ball Z comes to life in a captivating scratch card experience. Whether you're a dedicated series fan or simply looking for excitement, this game delivers.