Red White and Bleu Unified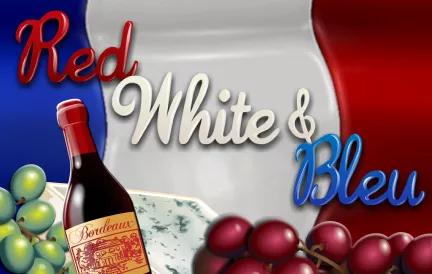 Welcome to the captivating world of Red, White, and Bleu by Rival Gaming, an online slot game that transports players to the heart of France. Enjoy a delightful adventure as you spin the reels amidst rustic charm and elegance. With its beautifully designed symbols showcasing French icons like grapes, cheese, and wine, this game is a visual delight.
The intuitive user interface and simple yet enticing mechanics ensure a seamless gaming experience, allowing you to focus on the excitement of each spin. Prepare to be enthralled by the allure of "Red, White, and Bleu," where the fusion of French-inspired aesthetics and thrilling gameplay will leave you craving more. You can play Red, White, and Bleu online slot for free as the game offers a practice demo mode accessible through the menu or right from the game selection screen. If you want the authentic intended experience, you can always play Red, White, and Bleu for real money.
Core elements and features: 
3 reels;
1 active payline;
3 max coins per bet;
$0.1-$30 betting range per coin;
Low volatility;
Autoplay feature.
Design and Presentation 
Red, White, and Bleu at Red Dog Casino is an enchanting online slot game that captures players' attention with its visually enticing design. The game presents a charming and rustic aesthetic reminiscent of a cozy French countryside. The background showcases the French flag, with quintessentially French icons, such as wine, cheese, and baguette, painted in warm red, white, and blue hues. The reels are adorned with beautifully crafted symbols, featuring delectable grapes, cheese wheels, and classic wine bottles. The user interface exudes elegance and simplicity, allowing players to navigate the game effortlessly. With its captivating visuals and charming design, the Red, White, and Bleu slot machine delivers an immersive online slot experience that is both delightful and captivating.
Game Rules and Mechanics 
When matching symbols appear on an active pay line, you will win. The symbols must appear in order, starting from the left. The number of matching symbols and the values on the payline will decide the payment.
Betting is as simple as it gets with the single payline. You can still alter the coin value and, if you so choose, play with 1, 2, or 3 coins (the greater bets also result in higher payouts for prizes). There is another welcome addition for a classic slot: Rival has included automatic spins, which does allow for a fast-paced gaming experience.
There are no features in the traditional sense, but the payouts have been changed to simplify winning.
When betting three coins, mixed food—like grapes and cheeses—can yield a return of 45 coins. The combination of three cheese logos yields the highest payout:
1500 for bets of one coin;
3000 for bets of two coins; 
5000 for bets of three coins.
FAQ 
How can I play Red, White, and Bleu slots for free at Red Dog? 
Explore free play or demo mode: once you have an account, navigate to the game selection and search for "Red, White, and Bleu." Red Dog Casino offers a demo or free play mode that allows you to enjoy the game without using real money or to see if it simply fits your preferences and playstyle. Click on the game to launch the free play version.
Why should I choose Red, White, and Bleu over the other titles by Rival at Red Dog Casino? 
Red, White, and Bleu slot machine offers a unique French-inspired theme that sets it apart from other titles by Rival at Red Dog Casino. With its charming rustic visuals, symbols, and immersive gameplay, the game provides a fresh and captivating experience. Indulge in the allure of France and enjoy the excitement of spinning the reels in this delightful online slot.
How does the Red, White, and Bleu slot machine fare on portable devices? 
Every player can play Red, White, and Bleu at Red Dog Casino on whatever portable device they own as long as they run the most recent versions of their operating system and web browser. If you prefer your mobile phone as the gaming platform, you're lucky!
Final Thoughts 
It was a wonderful surprise because Rival hadn't released a vintage slot in a long time. At Red Dog, we appreciate that they kept everything basic and simple, creating appeal for the newcomers with the easy-to-learn approach and allowing the veterans to get a whiff of the good old days. Many gamblers will find this game entertaining due to the charming aesthetics and intriguing payout scheme.