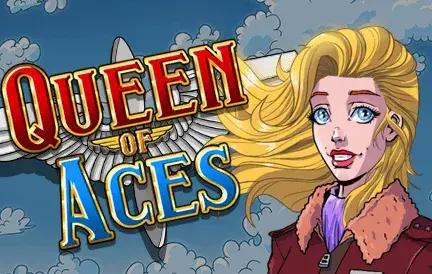 Dive deep into the world of card royalty with the Queen Of Aces slot. This slot machine skillfully combines classic card aesthetics with contemporary gaming features, ensuring that both traditionalists and modern players find something to love.
Red Dog Casino showcases Queen Of Aces with pride, and it's clear to see why. The game presents a regal backdrop, dominated by rich velvets and gold accents, reminiscent of a luxurious card table where stakes run high. The sound design, a blend of sophisticated instrumentals and the occasional riff of winning excitement, provides an audio journey fit for card game royalty.
But Queen Of Aces isn't just about aesthetics. The game packs a punch with its feature-rich gameplay. Every spin provides multiple chances to land winning combinations, with special symbols offering higher rewards and thrilling gameplay twists.
Highlighted Features of Queen Of Aces:
Symbols featuring card royalty, from jacks and kings to the eponymous queen of aces.
Intriguing bonus rounds where players can multiply their bets significantly.
A special 'Royal Flush' feature, promising players a jackpot when conditions are met.
In essence, Queen Of Aces brings the grandeur of card games to the world of online slots. It offers a unique blend of classic charm and modern gaming mechanics, ensuring that players are entertained and engaged with every spin. Red Dog Casino, known for curating a diverse collection of top-tier games, has a standout offering in Queen Of Aces. Whether you're a card game aficionado or someone seeking a new slot experience, Queen Of Aces is worth a try. Place your bets, let the reels spin, and let the queen guide you to regal rewards!