Prosperous Bloom Scratch Card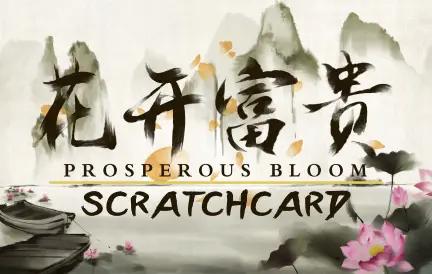 Dive into a world of flourishing flora and potential fortune with Prosperous Bloom Scratch Card by DragonGaming. Imbued with the vibrant energy of springtime blossoms, this game offers a refreshing take on the traditional scratch card, promising both visual delight and thrilling gameplay opportunities.
Prosperous Bloom Scratch Card stands as a testament to DragonGaming's prowess in melding aesthetics with rewarding mechanics. Every scratch unveils a canvas of colorful petals and symbols, making the anticipation of what lies beneath even more exhilarating.
Why should Prosperous Bloom Scratch Card be your next gaming pick?
- Vibrant Visuals: The game captures the essence of blooming flowers, treating players to a visual fiesta of blossoming wonders.
- Instant Gratification: True to scratch card nature, players have the potential for immediate rewards, heightening the game's allure.
- Flexible Betting: Whether you're a budding gamer or a seasoned player, Prosperous Bloom Scratch Card offers stakes that cater to all preferences.
Noteworthy Game Features:
1. Blossom Multipliers: Discover these hidden gems to enhance and magnify your winnings.
2. Special Floral Symbols: Unearthing these can lead to bonus rounds or additional rewards.
3. Live Dealer Interaction: Red Dog Casino, keen on elevating player experience, offers Prosperous Bloom Scratch Card with a live dealer. This immersive option adds a tangible feel to the digital realm, making the gameplay even more engaging.
In conclusion, Prosperous Bloom Scratch Card by DragonGaming is a breath of fresh air in the casino game landscape. Its combination of captivating graphics, straightforward mechanics, and the promise of blossoming rewards ensures a fulfilling gaming session. So, if you're seeking a game that's both visually pleasing and potentially lucrative, Prosperous Bloom awaits to enchant you!