Pieces Of Eight Video Slot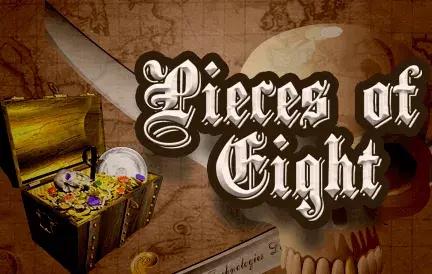 Ahoy, fellow gamers! Set sail on a high-seas adventure with Pieces Of Eight, an entrancing slot that promises treasures and thrilling escapades. Available for play at Red Dog Casino, this slot machine dives deep into the heart of pirate legends, inviting players to hunt for buried riches and legendary loot.
The allure of Pieces Of Eight is undeniably its stellar graphics and animations. As you navigate through stormy seas on your quest for gold, you'll encounter vibrant symbols such as menacing pirates, trusty parrots, and of course, chests brimming with jewels. The backdrop of a pirate ship at sunset further elevates the gaming experience, making one feel as though they're truly aboard a swashbuckling adventure. Accompanying the visuals is a rousing soundtrack of sea shanties and waves crashing, which only intensifies the thrill.
Dive into these standout features of the game:
Treasure Map' scatter symbols leading to bonus expeditions.
Wild symbols depicted by the fearsome pirate captain, boosting potential winnings.
Free spins, which can be re-triggered, increasing the chances of striking gold.
The 'Skull Island' bonus game, where players choose their path to uncover hidden riches.
For a slot machine, Pieces Of Eight truly delivers on both gameplay depth and narrative immersion. Its user-friendly interface ensures even landlubbers can embark on this voyage without a hitch, while the variety of bonus features ensures seasoned sailors stay on board for the long haul. With a competitive RTP, players can look forward to potentially lucrative payouts.
To wrap it up, Pieces Of Eight is not just another slot; it's an odyssey filled with risks, rewards, and relentless fun. So, hoist your sails, anchor down at Red Dog Casino, and embark on this riveting journey. Here's hoping you plunder the grandest of treasures!