Pharaoh's Falls Cascading Slot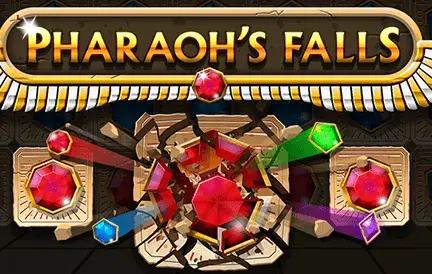 There's a strong conviction among some players that slot game provider might only consider itself accomplished once it releases an Ancient Egypt-themed title. Pharaoh's Falls Cascading Slot by Saucify Gaming is the company's response to that. This limestone-laden, gemstone-studded game invites you on a journey through the forsaken pharaoh crypt with the following specs: 
top award of 57,025 Coins; 
25 paylines on a 5x3 playing board; 
medium volatility (balanced win frequency and payouts); 
Cascade Wins, Cascade Multiplier, and Free Falls Star bonus features. 
To get to the treasure vault, we'll have to go a few levels deeper into the pyramid, so grab yourself a torch from the wall and watch out for those booby traps set by zealot priests - our Pharaoh's Falls Cascading Slot slot review begins! 
Style & Visuals 
Saucify Gaming checked all the boxes regarding typical Egyptian imagery of the pharaoh days. You'll find yourself in a dimly-lit vault with gleaming marble columns and two obligatory sconces lighting up the playing board.  
The board is a fluidly animated stone frame with square clay tablets bearing the game's symbols. Each letter and number symbol is properly stylized to resemble Egyptian jewelry, and the rest of the tablets come with gems embedded into them.  
The game's sound effects are undoubtedly one of its strongest suits - the heavy, grinding sounds of stone-on-stone action that the player hears during spins are a perfect fit for the game, and the dreamy Aeolian music loop in the background never gets boring. 
Basic Rules 
Before playing the slot machine for the first time, you need to know a couple of things that can make your sessions more lucrative and enjoyable. Firstly, the payouts are multiplied by credits wagered per line; secondly, Scatter wins are multiplied by the overall amount of wagered credits. When approached strategically, this system will make payouts fit for Descendants of Horus!  
Bonus Features 
Pharaoh's Falls Cascading Slot features authentic and fairly common in-game extras, most of which are designed to reflect the game's title. 
Cascade Wins. You must hit a winning combo on any of the game's paylines to trigger an avalanche of treasure. The board will freeze, and the paying symbols will implode, giving way for more clay slabs falling from above - the process will repeat until no more combos are formed. 
Cascade Multiplier. This feature is a direct continuation of Cascade Wins - each time you trigger one of those, your multiplier gauge will increase and apply its effect to the payout. It can last indefinitely as long as you hit those paying combos. 
Free Falls Star. These are basically the game's Free Spins. The feature doesn't differ in mechanics from the slot machine standard - just hit enough Scatters and get up to 20 Free Falls. 
FAQ 
How much is enough to play Pharaoh's Falls Cascading Slot for real money? 
A modest $10 deposit with Neosurf will not only give you a taste of real money play but also make you eligible for our Welcome Bonus! 
Can I play Pharaoh's Falls Cascading Slot online slot for free? 
Sure, but you'll have to look up the demo on the provider's official site or play for fun on one of the casino review sites. 
What if I want to enjoy Pharaoh's Falls Cascading Slot slots on the go? 
The game comes in a mobile-ready configuration to launch in your smartphone browser without any preparations. 
Conclusion 
Our today's review subject is outstanding in balance and gameplay value, which is, sadly, an increasingly rare sight on the market flooded with 'all-form-no-substance' games and the ones that prioritize complexity just for the sake of it. Thus, we recommend playing Pharaoh's Falls Cascading Slot at Red Dog Casino if you want intense and expertly crafted slot action!