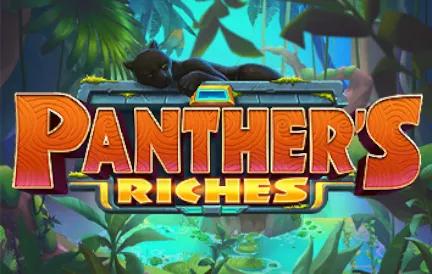 Panther's Riches by DiceLab is an exciting slot game that takes players on an adventure through the jungle, searching for ancient treasures from lost civilizations. The game features a standard 5-reel layout with 20 paylines, offering players ample opportunities to land winning combinations. Embark on a thrilling journey with this beautifully designed slot adorned with traditional Aztec decorations, and immerse yourself in a world of precious jewelry symbols, including rings, necklaces, and more. With its wild symbol and Scatter (bonus) symbol, Panther's Riches presents a range of winning possibilities, making it an entertaining and potentially rewarding game. Read our Panther's Riches slot review to discover what this game offers.
Theme & Design 
Panther's Riches captivates players with its well-crafted design, which showcases the allure of an ancient jungle civilization. The slot machine's backdrop features lush greenery and mysterious temples, setting the scene for an exciting adventure. The game's symbols, representing various jewelry pieces, are intricately detailed, adding to the immersive atmosphere. The developers' attention to detail in incorporating traditional Aztec decorations enhances the overall visual appeal and ensures players fully engage in the game's theme.
Gameplay Features 
In Panther's Riches, players can expect a blend of simplicity and excitement in the gameplay. The game's main features include Random Wilds and Random Scatters. The Wild symbol substitutes all other symbols except the Scatter, helping players form winning combinations more easily. Landing the Scatter symbol brings higher payouts and is the gateway to triggering bonus rounds or free spins, adding an extra layer of anticipation to the gameplay.
Winning the Game 
Regarding winning potential, the Panther's Riches slot game offers a diverse range of payouts based on symbol combinations. The Scatter symbol (panther) can appear on any reels and rewards players with x5, x4, or x3 multipliers, corresponding to payouts of $125, $25, and $5, respectively. On the other hand, the Wild symbol yields x5 multipliers, granting a maximum payout of $75 for a winning combination. The remaining symbols, such as the various jewelry pieces, offer payouts ranging from $0.40 for landing three of them to $75 for landing five. 
To increase your chances of winning while playing Panther's Riches slots, consider these helpful tips: 
always look out for Scatters and Wilds;
practice with small amounts to familiarize yourself with the game and its features before playing with high rolls;
study the paytable to know each symbol's value and respective payouts. This knowledge will aid in making informed betting decisions; 
bet on all 20 paylines to maximize your chances of landing winning combinations;
keep an eye on bonus rounds and free spins that can significantly boost your winnings, so watch out for the Scatter symbols. 
FAQ 
Are there any additional bonus features in Panther's Riches? 
While Panther's Riches primarily focuses on its main features, like Random Wilds and Random Scatters, some game versions may offer additional bonus rounds or features. Always check the specific casino's information or the game's description for details about any extra bonuses.
Can I play Panther's Riches on my mobile device? 
Yes, Panther's Riches is designed with mobile compatibility at Red Dog Casino, allowing players to enjoy the game on various devices, including smartphones and tablets. Simply access the game through your preferred casino's mobile platform.
Is Panther's Riches a high-volatility or low-volatility slot? 
Panther's Riches falls under the category of medium-volatility slots, meaning it offers a balanced combination of frequent small wins and occasional larger payouts. It suits players who enjoy playing Panther's Riches for real money with moderate risk and decent rewards.
Conclusion 
Panther's Riches is an engaging slot game from DiceLab that transports players to an ancient jungle, where the promise of hidden treasures awaits. With its stunning Aztec-themed design and straightforward gameplay, the slot offers an enjoyable gaming experience. Including Random Wilds and Random Scatters keeps the excitement alive as players chase bigger wins. The game's payout range and valuable tips allow players to approach their gaming sessions strategically. Whether you're a seasoned slot enthusiast or a beginner looking for an entertaining adventure, Panther's Riches at Red Dog Casino is worth a spin. So, step into the jungle and embark on an exhilarating quest for riches!