Milk the Cash Cow Unified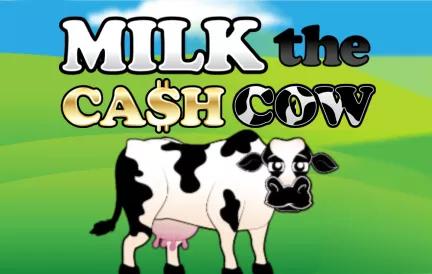 Milk the Cash Cow, a delightful online slot game created by Rival Gaming, offers a refreshing departure from the elaborate themes of many modern slots. Instead, it takes players back to the simplicity and charm of a simpler life in the countryside and classic fruit machines. With its straightforward gameplay, vibrant graphics, and the potential for significant payouts, Milk the Cash Cow by Rival proves that sometimes, less is more.
The pay table to the reels' left, typical of Rival Gaming's classic slot game lineup, clearly shows what you'll win for each option. You can bet 1, 2, or 3 coins on any spin. Remember to select your coin value, which can be anywhere from 0.01 to 10 coins, as they will multiply your earnings. The delightful addition of Wild Cows, which will make you shiver with anticipation at the thought of triple winnings when they form a winning line, is also to your advantage.
Pastoral Heaven and Country Chic
Rival Gaming has successfully infused the classic fruit machine aesthetic into Milk the Cash Cow. The game's visuals are bright, colorful, and reminiscent of traditional one-armed bandits in walk-in casinos. The background displays a picturesque farm with rolling green hills and a blue sky, adding to the game's cheerful ambiance.
The symbols on the reels include traditional icons like cherries, bars, cows, buckets of gold coins, and the titular "Milk the Cash Cow" logo. The animations are simple yet smooth, reflecting the game's retro theme. Overall, the design effectively captures the nostalgic essence of farming life and vintage slot machines at the same time.
Be Careful not to Spill a Single Drop
Even if you have never imagined yourself working as a milkmaid, the opportunity to milk every last penny from this cash cow can be enough to spin some reels in the countryside. The Cash Cow herself pays out 2,000 times your coin value when you play with one coin, 4,000 times your coin worth when you play with two coins, and 10,000 times your coin value when you play with three coins. You'll need to spin in three matching icons on the pay line to win the majority of rewards. All the following prizes will be tripled if one of those Cash Cows acts as a Wild and becomes a part of one of the other reward lines. 
Finding buckets of gold can earn 30x to 90x the worth of your coins, while finding piles of cash will earn you 25x to 75x. Additionally, triple, double, and single bars pay out 20x to 60x, 10x to 30x, and 8x to 24x multipliers, respectively. Any combination of bars will keep your bank account humming along with winnings of 3x to 9x while offering plenty of smaller wins of 1x to 3x for one cash pile and 3x to 9x for two cash heaps.
FAQ
What other slots should I try if I enjoyed Milk the Cash Cow at Red Dog?
In case you enjoyed the game, you can check out other Rival Gaming titles at our venue with various themes, such as: 
Hobo's Hoard; 
Dr. Acula; 
So 80's; 
Surf Paradise.
Do I need a dedicated app for playing Milk the Cash Cow at Red Dog Casino on my phone?
Milk the Cash Cow has been flawlessly optimized for use on mobile devices. The game plays on various gadgets, such as smartphones and tablets, without any issues. Players now have the opportunity to play the game while on the go because of the responsive design, which keeps all of the visually appealing features and functionalities of the desktop version right in the browser of their gadget. Playing Milk the Cash Cow slots on any platform will be enjoyable, whether at home or waiting in line.
Does Milk the Cash Cow slot have auto bet and auto spin features?
This Red Dog Casino title comes with all the modern quality-of-life features you might want from a modern online casino game, and these two are no exception.
Final Thoughts
Milk the Cash Cow by Rival Gaming is a delightful throwback to the classic fruit machine era, capturing the hearts of players seeking simplicity and nostalgia. The game's vibrant graphics, straightforward gameplay, and the potential for significant rewards make it an attractive choice for many players. While the absence of an option to play Milk the Cash Cow online slot for free in a demo mode might disappoint some players, the Wild Multiplier and the promising jackpot keep the excitement alive while playing Milk the Cash Cow for real money. The mobile compatibility ensures players can indulge in some farming for fun anytime, anywhere.
In conclusion, Milk the Cash Cow is a testament to vintage slot machines' enduring charm. If you're looking for a break from the complexities of modern slots and a chance to milk some fantastic prizes, this game is undoubtedly worth a try. So, don your farmer's hat and boots, spin the reels, and see if you can Milk the Cash Cow for all it's worth!