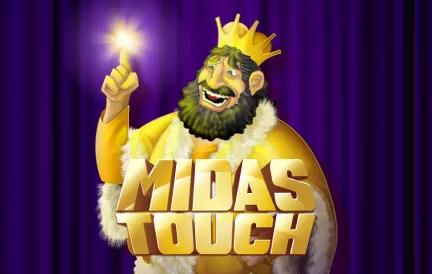 Midas Touch by Rival Gaming is an online slot game that invites players to a world of ancient Greek mythology of riches and luxury, featuring the titular character. Drawing inspiration from the legendary King Midas, this game promises a thrilling and rewarding experience. In this review, we will explore the design and graphics, gameplay mechanics, and features of Midas Touch Unified at Red Dog Casino, offering insights into what makes this slot game shine.
Design and Graphics
When you launch Midas Touch Unified, you'll be captivated by its stunning design and high-quality graphics. The game is beautifully crafted, with a backdrop depicting a grand palace adorned with gold accents, giving it an air of luxury and wealth. The symbols on the reels are intricately designed, featuring symbols such as golden fruit and majestic crowns, all contributing to the game's lavish theme.
The visual elements accompany a fitting and enchanting soundtrack, further enhancing the gameplay experience. The exceptional design and captivating graphics create an immersive atmosphere that keeps players engaged and eager to explore what lies ahead.
Gameplay Loop and Advanced Rules
The game offers a standard array of features we have all come to expect from Rival Gaming. The game has: 
low volatility; 
3 reels; 
3 paylines; 
RTP of 94.67%; 
0.01 to 5 coins range; 
1 to 3 coins per line; 
maximum rewards of X166 per line.
Yet, there are no bonus offers in the classical sense. If no bonus offers are accessible, what features does this free Midas Touch slot machine have? However, it has a logo symbol that serves as both the game's wild and the highest-paying tile. If you don't win with all three coins, you can expect to cash out with an astounding win of 2,000 credits.
Given that the logo is the most unique emblem in the entire game, it is also one of the hardest to land; your chances of winning this wild are higher than those of a pear. Additionally, the wild doesn't do anything special when it does land; it simply pays you a normal win. It might be exactly what you are looking for if you are after a simple, no-nonsense slot, just like the good old days.
Rival Gaming has an option if you want to play Midas Touch online slot for free in the form of a demo practice mode available through the game's options menu or by accessing the game without logging into your Red Dog Casino account before this. When you feel ready, you can always switch to playing Midas Touch for real money if you feel like being a true player. 
FAQ
Is there a free game feature in Midas Touch by Rival?
Yes and no. You can play the game for free in the demo mode for fun. But if you ask whether the game has a free spins unique feature and symbol, the answer is no.
Will this game suit me if I am new to online slot machines?
Midas Touch offers the essential online slot machine experience, and the rules and mechanics are extremely easy to grasp and start playing immediately. It also adds a single special feature not to overcomplicate things yet to keep things interesting enough for when you get the hang of it. You should give it a go.
I want to play Midas Touch at Red Dog Casino, but do I need to download an app first?
Thanks to its versatile design and optimization, Desktop PCs, laptops, and mobile devices are all compatible with Midas Touch. You can enjoy this tasty slot game whether you choose to play at home or when you're on the go. The user-friendly game interface makes for easy navigation.
Final Opinion
Midas Touch Slots, developed by Rival Gaming, is a visually stunning online slot game that effortlessly transports players to a world of wealth and grandeur. The game's design and graphics are top-notch, creating a captivating and immersive experience. The gameplay mechanics are easy to grasp, making it accessible to players of all levels. Including features such as the wild symbol, the Midas Touch feature adds layers of excitement and potential for substantial rewards.
Whether a seasoned slot enthusiast or a casual player seeking a thrilling gaming experience, Midas Touch at Red Dog Casino offers an enticing blend of luxury, engaging gameplay, and the chance to strike it rich. Rival Gaming has struck gold with this creation, making it a must-try for slot gamers. So, grab your virtual scepter and venture into the kingdom of Midas Touch for an unforgettable gaming adventure.