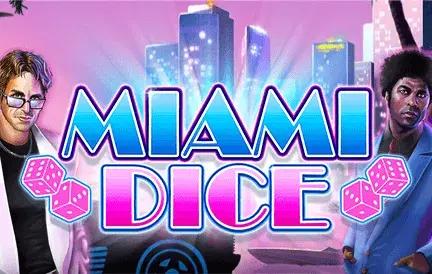 Step into the sun-soaked world of Miami Dice, where neon lights meet the sizzling beaches, exclusively available at Red Dog Casino. This slot machine is not just a game; it's a nostalgic trip down the lanes of the 80s, capturing the essence of the Miami vibe with every spin.
Miami Dice is a dazzling homage to a bygone era, characterized by its vibrant colors, flashy cars, and iconic skyscrapers. The backdrop of a setting sun against the Miami skyline creates an ambiance of relaxation, making players feel like they're right on the beach, drink in hand, and ready to roll the dice of fortune.
Key Features of Miami Dice:
Sunset Spins: Align the sun symbols, and you're in for a delightful free spin session.
Neon Nights Bonus: As night falls, the neon lights up, offering players the chance at boosted payouts.
Roll the Dice Feature: Try your luck with this special feature, and you might just hit the jackpot.
The magic of this slot machine lies in its meticulous attention to detail. Every symbol, from the flamingos to the palm trees, has been designed with precision, making it visually captivating. The soundtrack? A groovy mix that perfectly encapsulates the Miami nightlife.
Playing Miami Dice on Red Dog Casino ensures not just a gaming experience but a trip back in time. The game mechanics are smooth, ensuring that newbies and seasoned players alike can navigate effortlessly.
In conclusion, if you're yearning for a blend of retro aesthetics with modern gaming mechanics, then Miami Dice should be on your radar. It's not just about winning; it's about relishing the vibrant energy of Miami from the comfort of your home. So, put on your sunglasses, and let the Miami vibes guide your way to riches!