It Came From Venus NJP Plus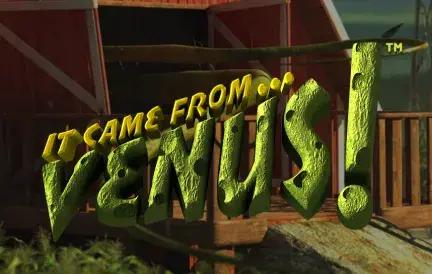 Venture into the unknown with It Came From Venus Plus, a slot machine that skillfully combines suspense, humor, and extraterrestrial excitement. Dive deep into the world of intergalactic interactions where each spin unveils the mysteries of what lies beyond our blue skies.
A stellar addition to Red Dog Casino's expansive collection, It Came From Venus Plus immerses players in a storyline filled with curious farmers, secretive government agents, and of course, the star of the show: a quirky Venusian creature. The rich graphics detail a countryside setting, disrupted by the unexpected arrival of our Venusian guest.
Beyond the compelling narrative, the slot machine promises out-of-this-world features, ensuring a gaming experience that is both entertaining and rewarding. From interactive mini-games to unexpected bonuses, every interaction with this alien visitor is a potential windfall.
Core Highlights of It Came From Venus Plus:
Dynamic symbols including crops, barns, and our amusing extraterrestrial visitor.
Alien abduction bonus rounds, providing players with a chance to rescue their Venusian friend and earn rewards.
The 'Galactic Jackpot' feature, where fortunes can be as vast as the universe.
In conclusion, It Came From Venus Plus stands out as a gem in the world of slot gaming, beautifully blending narrative depth with the thrill of jackpot pursuits. It's no surprise that Red Dog Casino, with its discerning eye for quality, has chosen to feature this title prominently. For those with a penchant for the extraterrestrial or simply a love for innovative gaming, It Came From Venus Plus is the slot to explore. Strap in, prepare for liftoff, and get ready for a cosmic journey like no other. After all, the universe is vast, and the rewards are limitless!