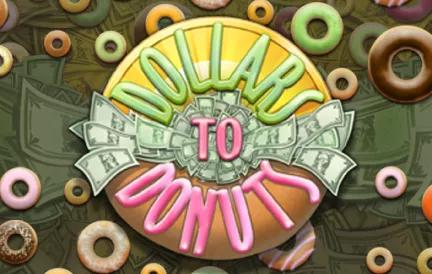 Welcome to our in-depth review of Dollars to Donuts by Rival Gaming, a delightful online slot game. Get ready to indulge in a sweet and rewarding gaming experience as you spin the reels of this delectable treat. With its enticing visuals, engaging gameplay, and sweet features, Dollars to Donuts slots promise an unforgettable journey into a world of confectionery delights. Before we dive any further, the player gets:
RTP of 94.30%;
5 paylines;
3 reels;
top win of 15000 times the original bet.
In addition to the Wild symbol, Dollars to Donuts offers a straightforward and rewarding gameplay experience. The focus is on the classic slot elements, allowing players to enjoy the thrill of spinning the reels without any complicated bonus rounds or mini-games. This simplicity makes the game easy to understand and ideal for those seeking a more traditional slot experience. 
While Dollars to Donuts may not have extensive bonus features, it compensates with generous payouts and winning potential. Landing three Wild symbols on a payline can result in the game's top jackpot, offering a compelling reward for lucky players. Additionally, the variety of donut symbols on the reels contributes to regular wins, ensuring an exciting and rewarding gameplay experience.
Visuals and Theme
As the name suggests, Dollars to Donuts revolves around the irresistible combination of money and mouth-watering donuts. The game's visuals are vibrant and eye-catching, with a colorful display of donut symbols in various flavors and styles. Each donut is meticulously designed to tempt your taste buds and add a touch of sweetness to your gaming experience. The backdrop features a bakery-inspired setting with delicious pastries, immersing you in a world of sugary delights. The accompanying sound effects add to the immersive experience, with playful tunes and celebratory sounds accompanying wins and spins. Overall, the graphics and sound combine to create an enjoyable and engaging atmosphere.
Gameplay Mechanics and Rules
Dollars to Donuts provides various betting options for different playing styles and budgets. You can adjust the coin size and the number of coins per line to customize your wager. The game also features a Bet Max button, allowing you to place the maximum bet with a single click. Remember that larger bets can lead to more substantial payouts, so consider your strategy and budget accordingly.
Dollars to Donuts follows a classic slot format featuring three reels and five paylines. The simplicity of the game makes it accessible to both newcomers and experienced players while still offering exciting opportunities to win. The game mechanics are straightforward, allowing for easy navigation and intuitive gameplay.
The symbols on the reels consist of different types of donuts, each with its unique design and value. Every spin presents a visual feast of delectable pastries, from glazed rings to powdered treats. The game also incorporates traditional slot symbols, such as the Lucky 7s and BARs, adding a nostalgic touch to the gameplay.
One of the standout features of Dollars to Donuts is the Wild symbol, represented by the golden donut. This symbol can substitute for any other symbol on the reels, helping you form winning combinations and increasing your chances of landing a tasty payout. You'll unlock the game's highest payout if you're lucky enough to land three Wild symbols on a payline.
FAQ 
What is the biggest payout possible while playing Dollar to Donuts for real money?
The top win in Dollars to Donuts is $5,000 for the most fortunate participants.
Are there any unique game modes for Red Dog's Dollars to Donuts?
You can play Dollars to Donuts online slot for free in the demo mode if you have yet to determine whether the game is worthwhile of your time and attention. If you're comfortable, you can always switch to playing Dollars to Donuts for real money.
Do I need to download an app on my mobile phone before I can play Dollars to Donuts?
Dollars to Donuts is designed to be compatible with various devices, including desktop computers, laptops, and mobile devices. Whether you prefer to play from the comfort of your home or on the go, you can easily enjoy this sweet slot game. The game's user-friendly interface ensures you have everything for fun.
Final Overview 
Dollars to Donuts at Red Dog Casino is a classic slot machine game. This slot may not be for you if you are an experienced player who enjoys playing games with lots of extra features, but if you are new to playing slot machines or would like to take a break from some of the more complicated ones available, Dollars to Donuts is a respectable option. You should have some donuts next to you while playing because you will likely have severe hankering for one pretty fast.