Rudolphs Revenge Slot Review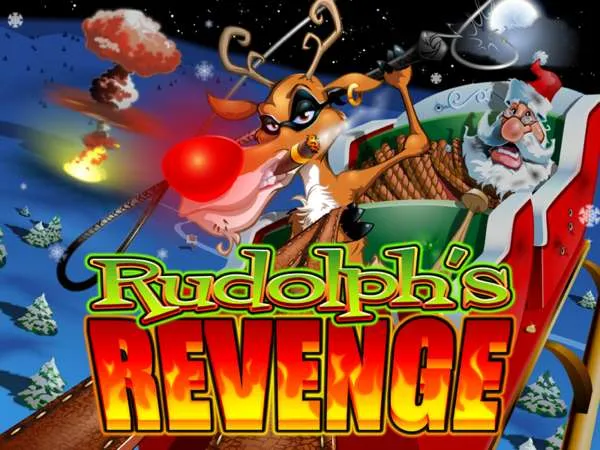 Do you know Rudolph, the red-nosed reindeer? That sweet face has become embedded in our collective consciousness as a big part of one of the biggest holidays in the western hemisphere of the world – Christmas. Well, prepare to have your image of Rudolph shattered in Rudolph's Revenge by RTG.
This is a slot game made by Realtime Gaming – a company with extensive experience in iGaming. This time, Rudolph has gotten fed up with driving Santa and the elves all over the world, and he decided to get revenge. Well – the game is not as bleak as it may sound – but it takes a very fun approach to an alternate reality where Rudolph rebels and takes revenge against Santa and the Elves. We found the theme very fun – if you find it as such too, then feel free to read the rest of our Rudolph's Revenge slot review to learn more about this slot machine.
Giving Santa a Taste of His Own Medicine
There are 50 paylines in the game. They are fixed, which means that the full 50 paylines wager is compulsory in any given spin. This makes things a lot simpler as the player doesn't even have to worry at all about selecting the proper number of paylines to bet on.
The symbols are a joy to behold. There is a Christmas present in the form of a wired bomb. There's Santa gagged with an apple in his mouth. The elves are tied with tape over their mouths. And there are the classic A-9 card symbols. Depending on which symbols you combine on the paylines – you will get an appropriate prize and win some money. Have fun spinning the reels.
Explosive Christmas
This game features an RTP rate set somewhere between the highs and lows of the industry standard. The RTP rate is set at 94.85%, which is pretty good, though not the best, admittedly. What you need to do to win is have luck – and there's no way around it.
The way to beat this game is to activate the explosive bonus by getting three or more box present bombs in any given spin. If you do this, you will get 7 free spins that will give you win multipliers – and that can be retriggered. If you're lucky, then you may activate this feature quickly and start racking in the dough. The only wager that you can place is $2 per spin, which is not a small sum of money. So, many people may be deterred from playing this game as there is no option to change the wager.
Free & Real Money
It takes a bit more time to start playing Rudolph's Revenge for real money, though. To do this, you will need to find an online casino that has this game, create an account, and deposit some money. You can then start playing, enjoying the thrills of true gambling.
Frequently Asked Questions
Can I get free spins when playing Rudolph's Revenge at casino?
If you play your cards right, then you may indeed get a certain number of free spins to play Rudolph's Revenge slots with. All it takes is to get the bonus that the online casino provides, and you will be good to go – the chances are that you will get free spins, as well.
Is Rudolph's Revenge available for mobile play?
Yes, you can play this slot game on your mobile device. Make sure that your mobile device is compatible first – and be sure to have stable internet access.
Rudolph has his revenge
Rudolph indeed has his revenge in this phenomenal slot by RTG. You can play this game for fun, and it will never get tiresome. There are just enough special features and just enough charm to keep you glued to the screen for a long time. Have fun!