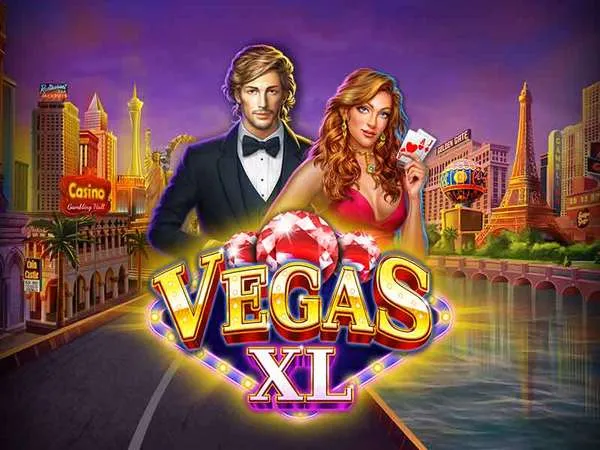 'This can't be another Vegas-themed slot! How many do they think we need?' - while such a reaction to the news about the release of VegasXL by RealTime Gaming would be somewhat justified, we are still curious to see what the company came up with. After all, you can't claim the developer doesn't care about diversity - the last RTG game remotely similar to VegasXL was Miami Jackpots, released more than a year ago.
VegasXL is designed with perfectly balanced features - this slot game is programmed to have medium volatility and a major win of 2000 times the bet. The quest for the jackpot unfolds across 243 ways, paying left to right, which is a pleasant change compared to several previous titles that featured 5 fixed paylines. It may sound mundane to a seasoned punter, but we've also stumbled upon some truly exciting features while working on this VegasXL slot review - read more to learn about them!
 
Game Design
The slot machine looks and feels exactly like you would expect it to - VegasXL is all about a filthy rich lifestyle, with gold-plated private jets and yachts the size of a soccer pitch. You simply can't beat this imagery in terms of putting the player in the right mindset for winning. As usual, all the little details are done with impeccable quality - glitzy yet not distracting.
 
Vegas XL Slot attributes
IDs
Game ID: 18 MachID: 327 (0x147)
Winning Strategies
There are three useful features in VegasXL, and you want to know how they all function to aim for big moolah. The Oversized symbol serves as the gateway to the other two by either triggering Re-Spins or Jackpot Pick. The former is self-explanatory - you get three tries on the same bet with an increased chance of hitting the Wilds. The latter adds interaction to the game by letting you pick one of the nine Jackpot symbols - the aim is to get three of a kind for a corresponding major reward.
 
Gameplay Basics
Playing VegasXL for real money or in demo mode is equally satisfying due to how it gets more complex and captivating the more spins you make. The fundamentals of the game rest on the standard wild and scatter system - Golden Coins and Vaults will either instantly boost the payout or multiply it by the total bet, respectively. The Vault scatters are also responsible for triggering free games. Seems like nothing to write home about, but please wait until we get deeper into the realm of bonus symbols.
 
Frequently Asked Questions
Is there a jackpot feature in Vegas XL?
Yes, you can win the jackpot while the corresponding game feature is active.
Is it possible to play Vegas XL for fun?
Yes, all RTG games have a built-in trial that most online casinos keep active.
Can I download VegasXL slots to my smartphone?
VegasXL, as well as hundreds of other RTG titles, are readily available on mobile in the browser version. All you need to do is access your casino of choice in a mobile browser and get exactly the same gaming experience as PC users.
Conclusion
After several titles that explored themes and imagery not typically associated with games of chance, RealTime Gaming makes a smart move that targets the traditionalist player. If you strongly associate slots with posh cars, luxurious attire, and other attributes of exuberant life usually seen in the capital of gambling, you'll have a blast playing the game. VegasXL definitely has enough standout features to keep any slot lover excited for a while and doesn't try too hard to bring anything groundbreaking to the table.