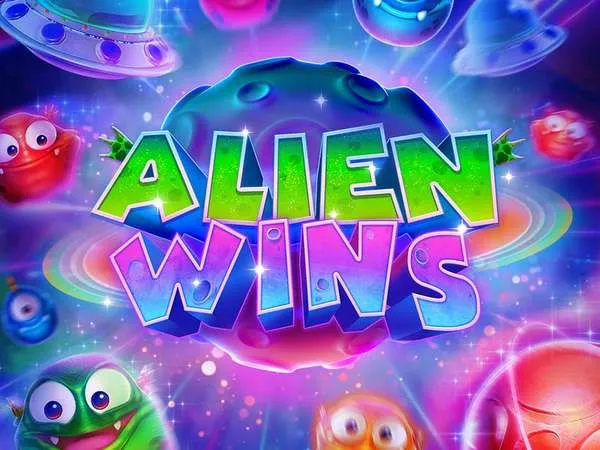 There is no shortage of online slot game options on the market, but we are always on the lookout for quality items, so the search never ends. Today we are inspecting Alien Wins by RealTime Gaming at Red Dog Casino. Not the most subtle of names if you wanted to conceal the game's theme from the player, so you might already know what to expect from it. Anyway, it is a good thing as the customer should always be aware of what the product has to offer. And Aliens Wins offers and expertly delivers an online slot machine game set in space and seasoned with a hefty pinch of extraterrestrial life forms, silliness, and charm. So hop on into the saucers, and let's look at this specimen a bit closer under our review quantum microscope!
Sound and Visual Design
RTG is a cutting-edge company regarding the tech part of the visuals in their slots. Non-planet icons on the reels look super cute and oddly charming, with huge eyes (or, in some cases, an eye) and face-spanning grins. The color choices are bold, as one would expect with such a theme, and the backdrop of the playing field is gorgeous. The interface and fonts are okay, and the UI does the job. When it comes to the sound side of things, the game has various sound options, and the theme loop isn't abrasively annoying, which is more than you can ask from many a similar game.
Alien Wins Slot attributes
Win Direction
All symbols pay Left to Right
Top Award
50,000 times bet per line
Basic Gameplay Features and Winning Strategy
Alien Wins is a 5x3, 9-payline online slot machine at its core. It also offers a number of various ways you can significantly stack odds in your favor and considerably boost your win:
the game offers Wild Symbols and Re-Spins if the right conditions are met, which will be your main tool for maximizing your gains. Landing the Wild symbol on any reel from 2 to 4 will lock the reel in place and morph it, granting you a free Re-Spin. The feature will be re-triggered every time you get another Wild on one of these reels and will also apply an X8 multiplier to each winning symbol with a wager on it.
another cosmic feature of the slot is the Bursting Wilds which can randomly pop on any of the reels. If it lands on reels 2, 3, or 4, it provides you with a guaranteed Wild and all the corresponding benefits and multipliers!
Verdict
RealTime Gaming has come up with another quality title that will scratch that cosmic itch and provide you with ample opportunities for incomprehensible wins and just straight-up tons of fun time!