The Big Bopper® Slot Review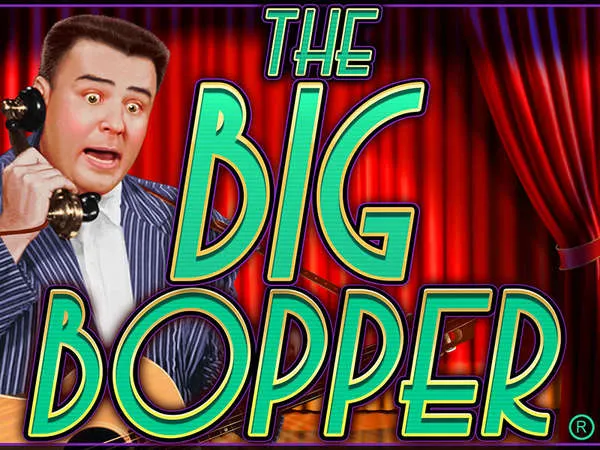 Maybe you've heard about The Big Bopper, famous musician, radio personality, and songwriter who took the United States by storm in the 50s. Even though he met his tragic end at the ripe age of just 28, his legacy lives on through many outlets, one being The Big Bopper slots.
In this article, you'll learn everything you need to know about The Big Bopper by Realtime Gaming, from features to bonuses and, of course, how to play and win.
What Makes It So Attractive to Players?
The Big Bopper incorporates a wonderful aura of nostalgia, introducing you to the 50's vibe through a bright red curtain. This particular slot game has state of the art animations but, at the same time, maintains a classic feel by displaying objects that were popular in that time period.
Another feature that Realtime Gaming introduces so that the player can have even more fun is the All Ways Pay aspect, meaning that The Big Bopper slot machine pays from left to right but also from right to left, an advantage that other games don't have. The number of paylines goes as high as 729, with 6 reels to make it sweet.
It's as Easy as Doing the Bop!
Well, we talked about specifics but how exactly should you play this game? Off the bat, you can adjust the speed of the reels but wait until you hear about the Scatter. It has the ability to increase your win by a certain amount but also grants you a feature only if you line up all 6 letters on the reels: B O P P E R. Also, any icon, except the scatter, can be replaced by the Wild card, a picture of Bopper himself that triples the prize.
So what if you feel like it's the 50's? You can play The Big Bopper for real money or just for fun as it has a demo version on any modern device, be it mobile or desktop.
The Big Bopper® Slot attributes
Paylines
All Ways Pays, 729 combinations
Jackpot Reset Amount
Game without jackpots
Top Award
30,000 times bet per way
Platform
Download, Instant Play, Mobile
Let's Win Big!
Now comes the fun part, and that's winning. But first, you have to set the level of your bet, ranging from $0.30 to $30 and the biggest win will give you 2,000x your bet level. Pretty generous if you ask us.
Let's talk about how you can increase your chances for that big win that is always being looked for.
Play within your budget and be prepared to lower the stakes if you see that you're on a losing streak.
Start with a small betting level, and then after you won half of your starting budget, bet bigger.
Don't expect anything. You're playing to have a good time; you're not playing to make a fortune.
Last but not least, have fun! Relax and enjoy your time in the company of The Big Bopper, and who knows, maybe he'll cut you in on his music royalties.
Free or Paid?
You can have it both ways and still have a lot of fun. The Big Bopper slots have a free mode in which you can try it out and see if it fits your personality and your playing style.
The next one is for the big boys, the real money game. Grab your credit card, and you can play on your iPhone, iPad, desktop, or if you're feeling adventurous, you can enjoy The Big Bopper at the casino.
Frequently Asked Questions
Do I need to select the number of lines?
No. The Big Bopper is an All Ways Pays slot; thus all you have to do is to select your bet level.
Do I need to hit spin every time?
The Big Bopper comes with an Autoplay feature that helps you relax and watch the money coming in.
How big is the jackpot prize?
Don't worry about the multiplier being so low. You can win up to 2.000x bet.
Conclusion
Be it a young gun looking for some fun or an old-timer looking to relive the good old days, our The Big Bopper slot review must have shed some light on the player's dilemma.
No matter if you want to play The Big Bopper online slot for free or you want to make some real cash, this is one game that you can't get enough of.
Have fun and win big!