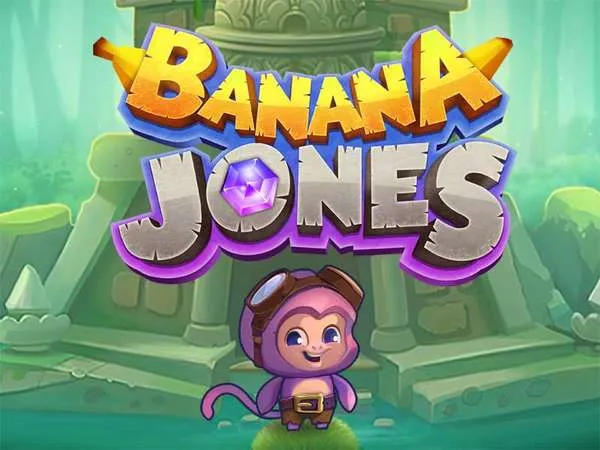 Banana Jones by RealTime Gaming is an innovative board game that contains a playing field and dice so that the player can make a move that will determine a lot. Anybody who played Chutes & Ladders or Snakes & Ladders won't have a problem figuring out the mechanics of this game. Besides, it comes with an incredible adventure theme.
How to Play Banana Jones
This game plays out the same way as regular board games. The only difference is that the player wagers money on the game outcome. When you play Banana Jones for free or real money, focus on helping Banana Jones enter the Temple with undreamed riches. This game's unique mechanics and exciting topic are supported by neat animations, a suitable soundtrack, and exceptional graphics.
Although Banana Jones is not a slot machine with paylines or reels that you can wager on, it offers a decent maximum payout of 2,565x your bet. This game also features three exciting bonuses that you should watch out for. These are the Treasure Wheel, the Crystal Banana Quest Feature, and the Extra Roll.
 
Banana Jones attributes
Type
Snakes & Ladders Style Board
Platform
Download, Instant Play, Mobile, Native App
Winning Banana Jones
If you play Banana Jones at any casino, your goal is to win the highest prize. This game's playing board is a path that crosses a swamp. But, this path is crawling with Snakes and Vines. Use the Vines to advance as you go to the Temple. Don't forget that snakes will try to stop your journey.
Select the bet amount from $0.20 to $5.00 before throwing dice. The dice have five rolls. The number of times you will jump depends on the result. You can also use the Autoplay feature.
Banana Jones gathers the matching icons hopping among the lotus leaves. You can check the amount of the collected symbol on the upper-left side of the screen. If you land 2 to 4 snakes, you get a prize of between 0.5x and 5x your bet. Getting 2 or 3 Vines will earn you 1x and 25x the wager, respectively. If you collect 3, 4, or 5 Crystal awards, you get 1x, 4x, or 40x the stake, correspondingly.
 
Playing Banana Jones for Free and Real Money
You can play Banana Jones for real money at a reputable casino. Simply choose a licensed casino that is powered by RealTime Gaming. Register for an account and start playing by selecting the specific amount of money that you would like to wager from $0.20 to $5.0. After doing this, you will be given 5 dice rolls. And, the dice number that comes up determines how far you can move along the game's board. The payout is determined by what happens during the five rolls.
To play this game for free, look for a demo version of Banana Jones. You can use this version to practice and sharpen your gaming skills. Alternatively, use the Treasure Wheel to trigger a free move in the game.
 
Frequently Asked Questions
Why should I play the Banana Jones board game?
Banana Jones is a unique game and a change from other casino games, be it poker, slots, and blackjack games. It has a high maximum win and high payouts for the top coin. 
Which are the bonus features in Banana Jones?
Treasure Wheel Feature and Crystal Banana Quest Feature are the bonus features in this game. The Treasure Wheel Feature is triggered whenever a player lands Banana Jones on Treasure Wheel. This awards the player an extra move or a cash prize. The Crystal Banana Quest Feature is triggered by landing Banana Jones into the Giant Temple.
Is Banana Jones compatible with mobile devices?
Yes. You can download Banana Jones, play it in an instant play mode, or even use its native app. In addition, this game is compatible with different mobile devices, including smartphones and tablets. 
Final Thought
This Banana Jones board game review depicts that this unique game is worth trying. Whether you want to play for fun or for real money, you will enjoy a different experience playing this game. Simply choose a reputable casino where you can register and start playing the Banana Jones game.