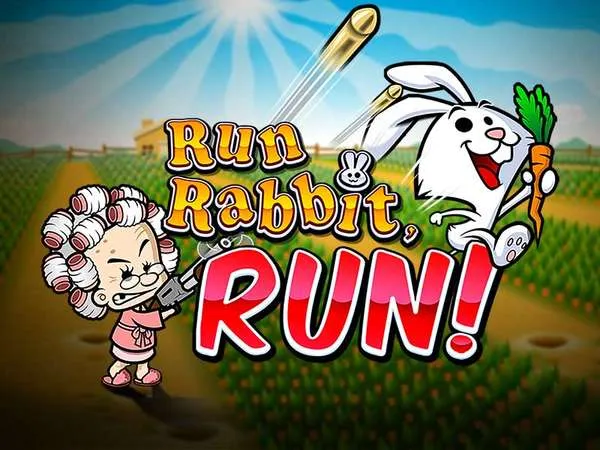 When you combine Frogger (a classic arcade where you need to avoid obstacles and lead your amphibious protagonist to safety) and some good old slot action, you get Run, Rabbit, Run! by RealTime Gaming. The idea of making a crossover between the mechanics typically absent from the world of gambling and the classic slot game rules was tried many times before, but not the way RTG handles the task this time by adding a fresh twist.
From the math's standpoint, this is a 25 paylines slot with medium volatility, meaning there is no imbalance in favor of either the frequency of winning combinations, or the amount of payouts. Everything else you might want to know, including how to play the game for fun, and how to play it with winning in mind, we prepared below in this Run Rabbit, Run! slot review.
 
Gameplay Mechanics
Traditionally, the Wild and Scatter symbols are responsible for all the magic happening on the game board and are represented by Mr. Rabbit and Carrot Farm, respectively. Replicating the typical behavior of the animal, when the Wild appears accompanied by Mrs. Rabbit, it has a chance of jumping on the respective reels. Carrot Farm's function is to pay any instead of regular left-to-right. Three and more thereof trigger the game's unique feature explored below.
 
Run Rabbit Run Slot attributes
IDs
GameID: 18; MachID: 0x134(308)
Top Award
50,000 times bet per line
Playing and Winning
Instead of a boring transition to Free Game mode, you get a Frogger-type mini-game where up to 5 rabbits can cross the road, thus giving you up to 100 free games. While at it, the rabbits can also pick up the bonus carrots that will increase the free game prize multiplier, add extra wilds and extra free games.
 
Visuals
With this slot machine, RTG once again goes for a modest, uncluttered art style while concentrating on modifying the rules to make the game stand out. That is not to say that the game is unattractive – it's quite the contrary, and it has a couple of likable protagonists on top, namely Mr. & Ms. Rabbit, doing their rabbit thing on a game board-turned-farming field and entertaining the player with occasional quirks.
 
Frequently Asked Questions
Does Run Rabbit, Run! have a jackpot feature?
Yes! Not only that, but the jackpot comes in a Minor and Major form.
Is there a demo mode in Run Rabbit, Run! slots?
Just like with any other RTG game, Run Rabbit, Run! Has a free trial feature.
Is there a mobile version of Run Rabbit, Run!?
You don't need to look for, download or install any additional software to enjoy and win the game on your portable device, be it a smartphone or tablet. 
Conclusion
Playing Run Rabbit, Run! for real money or simply for entertainment is definitely a good pastime. The title doesn't reinvent the wheel when it comes to mechanics, but it has enough additional features on top of that to increase its fun value and stand above any run-of-the-mill slot game.