Meerkat Misfits Slot Review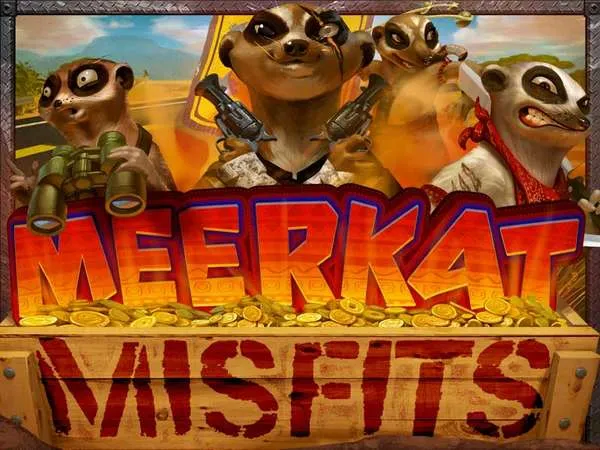 Meerkat Misfits by Realtime Gaming will take you to the beautiful unending desert down the road of bonuses and cool wild features. But be aware - there is a dangerous gang guarding the treasures of that desert. To get a reward, each player will have to face Scout, Hunter, Muscle, and Commander Meerkat on a 3x5 battlefield to prove that they are worthy of their riches.
When you start playing Meerkat Misfits slots, be prepared for the outlandish adventures and exciting features all the way. There will be a lot of fascinating challenges, and if you pass them all, you will be rewarded not only with gold and coins but also with a feeling of satisfaction from a good fight. Follow the Meerkat Misfits slot review to know what to expect from this adventurous slot machine.
Theme & Design
Meerkat Misfits has a simple yet capturing design. A standard 3x5 grid with 30 paylines is settled on the background of the Southern African desert inhabited by battailous meerkats. Energetic and rhythmic music will help you immerse even deeper into the game atmosphere. Despite the intense feeling of the fight, the Meerkat Misfits slots were primarily created for fun and joy, so there will be critical features helping you to enjoy the game and victory.
Now let's take a closer look at the gang you are about to fight. Scout is the youngest, but don't underestimate him – his sharp eyes can spot you miles away. Next, Hunter - is quick, intelligent, and ruthless. Muscle's name speaks for himself; he is the strongest guy in the gang. However, the most dangerous one is Commander Meerkat - cunning, and quirky, he never misses. But don't be afraid, you have all chances to defeat them with all your skills, luck and, of course, the help of special features!
Gameplay Features
This must be the most important part of the review if you want to know the game mechanics better. Let's start with the special symbols that Meerkat Misfits slot machine offers.
Wild Symbols – You have to chase the meerkats here, as their icons are the Wilds. Scout, Hunter, Muscle, and Commander Meerkat stand for x1, x2, x3, and x4 Wild Multiplying, respectively. A little hint - only the highest Wild multiplier is used, so good luck catching it.
Scatter Symbols - Free Games, they pay in any direction. When you see three or more Scatter symbols appearing anywhere on the gameboard, Free Games with Stages Feature is triggered.
Now, if you were lucky enough to get the Stages Feature, you must be aware that there are four stages upon each feature trigger, and once all of them are completed, you will have to start over from the very beginning.
What to expect from those Stages? First of all, you must know that there are 4 of them.
The player will get 7 (8, 9, 10) Free Games with the first(2nd, 3rd, 4th) trigger combination;
All Wilds are changed to x1 (x2, x3, x4) Multiplying Wild;
Any retrigger adds 7 (8, 9, 10) free games to the current feature stage.
It can be not very clear at first sight, but after playing several games with those features, you will be grateful for the diversity of winning opportunities.
Meerkat Misfits attributes
Top Award
2,000 times the bet (500x4)
How to Win the Game
First of all, you need to gather up all your courage to face Scout, Hunter, Muscle, and Commander Meerkat and don't be distracted by their scary looks and cunny tricks.
Secondly, learn about all the features that might help you succeed and even multiply your winnings.
And last but not least - practice! If you are not sure that you got used to the game's pace, go to the demo version and level up your skills. Then come back stronger than ever and fight for victory!
Frequently Asked Questions
Is Meerkat Misfits Mobile Friendly?
Sure! You can use any mobile device to launch the game via your browser without losing any quality.
Can I Play Meerkat Misfits without Making a Deposit?
Yes, it is possible to play the demo version of the slot game.
What Is the Top Reward in the Meerkat Misfits?
The luckiest, strongest and bravest players can get up to 2000 times per bet (500x4).
Conclusion
Dive into the risky adventures with the Meerkat Misfits slot game and find yourself in the middle of the Kalahari Desert fighting with a gang of meerkats for enormous treasures. The variety of features may impress even the old playing guard and will not let anyone be disappointed.