Perfect Pairs Online Review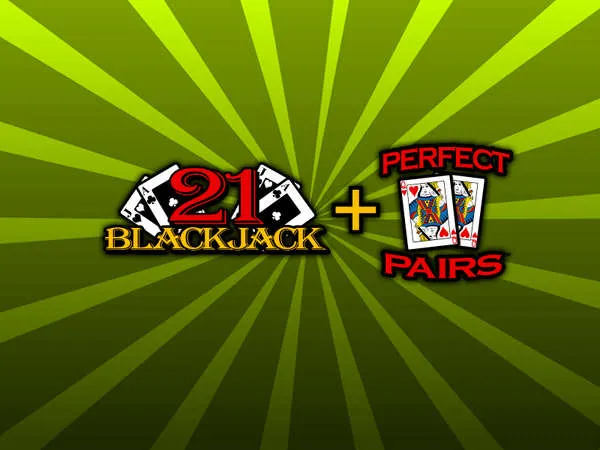 Perfect Pairs game is an extraordinary masterpiece from RealTime Gaming. It is easy to understand and play. Perfect Pairs game is similar to traditional European blackjack. This similarity lies in the addition of side bets. You have the opportunity to win a massive jackpot in this game. It would be a perfect idea to play the demo version of the game first. This will accustom you to the principles of the game before investing some cash. Read on this review to find out more about the gameplay.
Specific Rules and Table Limits
Perfect Pairs game has some rules that make it slightly different from regular blackjack. They are:
Players are dealt two cards exposed while the dealer has one card exposed and the other hidden.
It is not possible to re-split split hands.
You get only one extra card when you split aces.
The dealer stands on 17. However, they must draw to 16.
A player can double down after splitting.
The table limit is the least value of $1 and a maximum of $250.
Perfect Pairs Online attributes
Configurable Options
Bet Spots (1 or 2), Payout Percentage (High, Medium, Low)
Bonus Bet High Payout
1.93%
Bonus Bet Medium Payout
4.18%
Bonus Bet Low Payout
6.11%
Steps to Play Perfect Pairs
Specific properties define Perfect Pairs blackjack. It would be beneficial to be aware of them. Some of them are:
Number of Decks: 6
Player blackjack: 3/2
Insurance bet pays: 2/1
Resplit: Disabled
Surrender bet: Enabled
Expert mode: Disabled
Perfect Pairs game is simple to play. Join a suitable table. The goal of the game is to be as close as possible to 21 without exceeding it. The steps below will guide you on how to play the game:
Select the amount of cash you are willing to bet on each hand.
Choose the amount of money you want to bet in the Perfect Pairs circle.
Place your bets.
You can either hit, stand, double your bet, or split your hands. Your actions at this point depend on your strategy.
Strategies to Win in Perfect Pairs Casino Game
Perfect Pairs game is a strategic and dynamic game. You cannot know the best move to make every single time. However, here are a few tips to help you excel in this game:
Choose the mixed pair bet if you want to raise a little stake.
Hit whenever you have a five, six, seven, or eight irrespective of the dealer's card.
Hit on hard 11 on when the dealer shows an ace. If the dealer displays any other card, double down on hard 11.
Stand on a hard 12 whenever the dealer's face-up card is a four, five, or six.
Regardless of whatever card the dealer deals, always stand all hard totals of 17.
The payout range for this game is summarized in the table shown:
 
| | |
| --- | --- |
| Hand | Payout |
| Mixed pair | 5 to 1 |
| Colored pair | 15 to 1 |
| Perfect pair | 25 to 1 |
Frequently Asked Questions
What is the house edge of this game?
The house edge of this game is considerably high compared to other blackjack variants. Typically, it could fall between 2% and 11%.
Can I play Perfect Pairs on mobile?
Sure, you can. You can play this game online on your mobile devices like tablets and smartphones. This is good if you are a person who loves to stay on the screen while on the move.
Is there any relationship between the number of decks and the house edge in this game?
Yes, there is a link between them. The house edge decreases as the number of decks decrease. This setting is because fewer decks give you a higher chance to land a natural blackjack.
Conclusion
Perfect Pairs by RealTime Gaming is a classic game for any driven player, irrespective of their skill level. The inclusion of pair bets in Perfect Pairs makes it unique. This game has the potential to satisfy the ever-increasing appetite of high rollers. Beyond the risks, the Perfect Pairs game is set up for fun because you can play Perfect Pairs online for free. If you land a top-notch side bet win, you have a great advantage. If you value the thrills and excitement, this is the game for you.