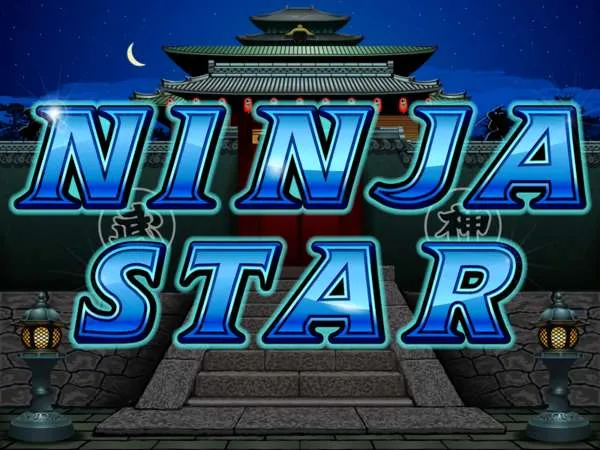 Many people acquired fond memories of their childhoods when they pretended to be ninjas – the all-black Japanese mercenaries that were experts at stealth and hand-to-hand combat. Well, Realtime Gaming, a company with great experience in slot design, has decided to create a game based just on that theme – and it goes by the name of Ninja Star slots.
The game features 25 pay lines – to be found 5 different reels with 3 rows. This means that it's a classic slot with the old and simple rules that made slots popular in the eye of the public back in the day. That being said, we hope that you will read the rest of our Ninja Star slot review for more information on this slot game. 
How to Play Ninja Star
As mentioned in the previous paragraph, Ninja Star by RTG is a classic slot game. This means that you won't have to do a lot of things at once when playing the game. It's simple, really. All you need to do is pick the number of pay lines you're willing to bet on – and the size of your bet. The pay lines can be conveniently picked out from the sides of the game itself.
And the smallest bet that you can wager can fall all the way down to $0.01 for a single pay line. The biggest bet, if you cover all the pay lines, can climb all the way up to $25 per spin. So, this game is suitable for players that don't want to spend a lot of money playing slots. 
Winning the Battle with the Ninjas
If you want to play Ninja Star for real money, then it's obvious that your goal is to win as much money as possible while playing it. There are several different symbols at play in the game, and they have different worth. The symbols and the reels themselves will give you an impression like you're in an ancient Japanese pagoda doing raids with your ninja buddies.
Having said that, there are two main jackpots in the game – the minor one and the major one. The major jackpot is usually in the field of several thousand dollars. There is also a special game to be played if you activate the scatter symbols. You will go into a room where you can pick scrolls that the ninjas can open with a swift strike of the katana. The scrolls usually have multiplier bonuses to give you. This alone can win you big sums of money – so you should ask of your good luck charms to get it.
Free & Real Money
You can play Ninja Star online slot for free in any given online casino that has this game. There are demo versions available to the player – but you won't be able to win any money by playing this version of the slot machine. It's just for fun.
If you want to play Ninja Star at casino for real money, then you will need to create an account in an online casino that features this game and then deposit some money. And there you have it – you will get immediate access to Ninja Star – a slot game that you can now play with real money.
Frequently Asked Questions
Are progressive jackpots available in Ninja Star?
No, progressive jackpots aren't available in Ninja Star. As mentioned before, there are two main types of jackpots – the minor one and the major one.
Can I play Ninja Star on a mobile device?
Beyond any doubt. Most, if not all, of the RTG slots are available to play on a mobile device. RTG does a faithful rendition of the original game – so you won't have any problems playing Ninja Star on your mobile device.
Conclusion: Be One with the Ninjas
This game will be loved not just by ninja fans – but by people of all different walks of life. It's fun and captivating – and there are many handsome bonuses to keep you entertained as you play. So, be sure to try playing it in one of the casinos that feature it!