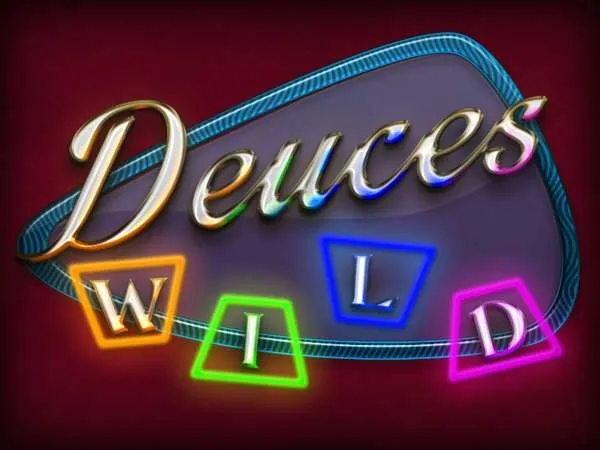 Deuces Wild by Realtime Gaming is almost similar to other video poker variants like Jacks or Better and Double Bonus. Essentially, a gamer plays with the standard 52-card deck. When playing this video poker, you select the cards to hold and hope that the Royal Flush will appear. However, this game differs from the other video poker games because it allows the player to replace any of the cards with a deuce to create the winning hand instantly. Thus, 2 deuces act as the wilds. Find out more about the gameplay in our review.
Specific Rules and Table Limit
The Deuces Wild game uses the standard 52-card deck. This eliminates the chance of getting several cards of a similar suit and denomination. It also comes with a fair winning chance since only one deck is used. The deck is automatically reshuffled after a gamer plays a hand completely. Thus, a player can't count the used cards.
Deuces are the wild cards. That means they count towards the maximum benefits. A gamer gets 3 queens in their hand and a single deuce. They also have four of a kind because a deuce counts as a queen too.
Each game of the deuces wild comes with two rounds. The first round features five cards, and a player can hold the cards to keep in the next round. The second round is where the player knows whether they have won or lost.
Deuces Wild attributes
Hands
1, 3, 10, 52, and 100 (1, 3, 10, and 52 only for Flash)
Bonus Feature
Optional Double or Nothing Bonus allows player to double their win if they select a card that is higher than the dealer's card.
How to Play Deuces Wild
Playing the Deuces Wild video poker is easy. Simply register at an online casino that features games by Realtime Gaming. Once you've done that, select this video poker and start your adventure once it loads on the screen of your device. Here are the steps to follow when playing this game.
Select the bet amount - Start small if you're new to this game. Also, consider using the demo version to play Deuces Wild for free to learn about it before you start playing for real money.
Select your cards - On receiving your five cards, choose what to keep and what to discard. If you get a deuce, don't discard it.
Check your cards - Find out whether you've won or lost.
That's how this video poker is played. Nevertheless, start by reading about it or using a demo to play for fun before you start betting your hard-earned money.
How to Win Deuces Wild
Wild 2s provides countless combinations for winning this video poker variant. Jokers, as is clear from the number of cards, are not included in the deck; deuces will act instead of them. However, this card won't act as the wild in Royal Flush, the combination which can bring the player the highest win.
You can increase your winning chances by trying a maximum of 5 coins. That's because you will have a chance to get the Royal Flush naturally whenever you play with the 5 coins. It's also important to practice the Deuces Wild game more often to sharpen your skills. No strategy will work if you don't apply it in practice.
Frequently Asked Questions
How do I learn to play Deuces Wild online?
You can learn to play Deuces Wild by reading about it online or watching video tutorials. You can also practice with the demo version of this game to sharpen your skills. Check the game setting section before you start playing, as well as the terms and conditions of the casino.
Is Deuces Wild a random game?
Yes. This game uses a random number generator. That means a casino can't manipulate the outcome of this game.
Where can I play Deuces Wild online?
You can play this video poker at any online casino that features many games by RealTime gaming.
Can I win real money when playing Deuces Wild online?
Yes. While playing Deuces Wild, you can win real money that will be deposited into your account. Withdraw this money at any time or use it to continue playing.
Conclusion
Deuces Wild is a great video poker variant with great odds. It also offers much fun and is completely random. No casino can adjust this game's randomness. To start playing and increase your chance of winning and getting a great payout, learn to differentiate pay tables.