The Three Stooges 2 Slot Review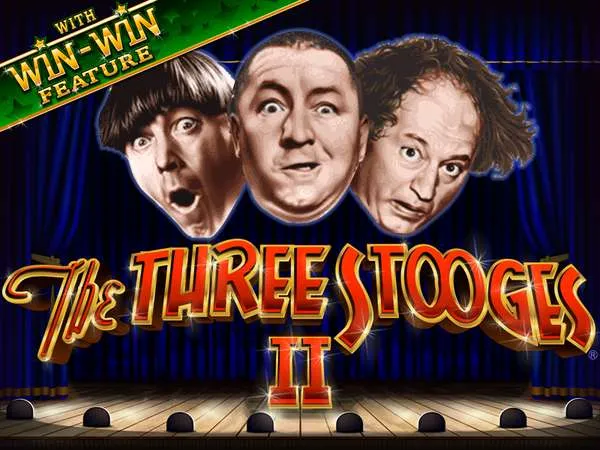 The Three Stooges II by Realtime Gaming is a 3-reel by 3-payline slot game launched in 2014. Its theme is set on a Vaudeville comedy act. The Three Stooges II online game uses the funny faces of comedians Moe, Curly, and Larry. The game consists of turbo play, minor jackpot, major jackpot, free games, and multiplier. Game's RTP is 96%, but its variance is low. You can win a maximum payout 50,000 times of the bet apart from the jackpot.
Ways To Play The Three Stooges II
The Three Stooges II slot review shows 'The Three Stooges II' sign as a wild symbol. It substitutes all other symbols except Larry, Moe, and Curly which may trigger features. If two Wilds appear on reels, they will give 33 coins, and in case of 3 Wilds, Three Stooges Jackpot will be triggered. Here, prizes will be tripled, if one 'Three Stooges II' substitutes in the winning combination. If two 'The Three Stooges II' appears on the reels in a winning combination, then it will be multiplied by 9.
This RealTime Gaming slot has Larry, Curly, and Moe as symbols that couldn't be replaced by the Wilds. But, The Three Stooges II slots scatter symbols are similar to bonus features.
Curly's Cashola Feature: In a slot machine, 3 Curlys will award 9 free games. During free games, all prizes will double. If 3 mixed Curly, Larry, or Moe appears on a payline in a free game, then it adds 1 free game to the current feature.
Larry's Stash Feature: While playing The Three Stooges II at the casino, this feature gets triggered when 3 Larrys appear on the payline. You can win a minimum of 7 free games with prizes of x2:
8 free games with x3 prizes
10 free games with x4 prizes
12 free games and prizes multiplied by x5
15 free games and prizes with x6
20 free games with x7 prizes
Here, the dice is rolled to eliminate the levels on the prize ladder. After 5 rolls of dice, the last free games left on the ladder will be awarded. The mix of any 3 Larry, Curly, and Moe during free games will add 1 free game to your current feature.
Moe's Moolah Feature: This feature triggers when 3 Moes appear on the payline. The player can win prizes on 6 levels; with multipliers x3, x4, x5, x6, x8, x10, you can win 10, 15, 25, 50, 75, and 100 free games. Also, the dice will be rolled to eliminate the levels. After the 5 rolls on dice, the remaining free game prize will be awarded. Any 3 mixes of Moe, Curly, and Larry will add 1 free game to current feature during these free games.
Win-Win Feature: It will trigger at the end of any feature. If you cannot get close to the desired winnings, this feature can give you 10-200 times your initial bet. And if you are lucky enough to multiply your winnings by at least 2, you will get 5-100 times your bet. If you earn more money than 2-5 times your bet, you will be a lucky winner with 2-100 times your initial bet.
Quick Tips To Win This Slot
You can play The Three Stooges II for real money with a betting range of $0.30 to $3. It also has an Autoplay option that lets you play the game according to the options selected. You can even earn 450 coins with the Stooge Studio symbol and the Wild Symbol and almost 45 coins if you receive three 7s or lemons symbols.
The quick tip to win the game is bringing the wild symbol on the highest betting line. It will trigger the random jackpot and will help you win the maximum payout too.
Frequently Asked Questions
Does this slot game offer free gameplay?
Yes, you can play The Three Stooges II online slot for free as it is available in the demo version too.
Is it available for mobile devices?
Yes, you can play on iOS and Android mobile devices.
What are all jackpots available at the end of the game?
You will find minor and major random jackpots.
Final Verdict
The Three Stooges II slot game is available for fun and real money. Players will get fascinated with character features and random jackpots. Even The Three Stooges II jackpot is an excellent turn on. Other symbols also pay out a reasonable amount, which will keep the players seated at the screen for long.