Big Cat Links Slot Review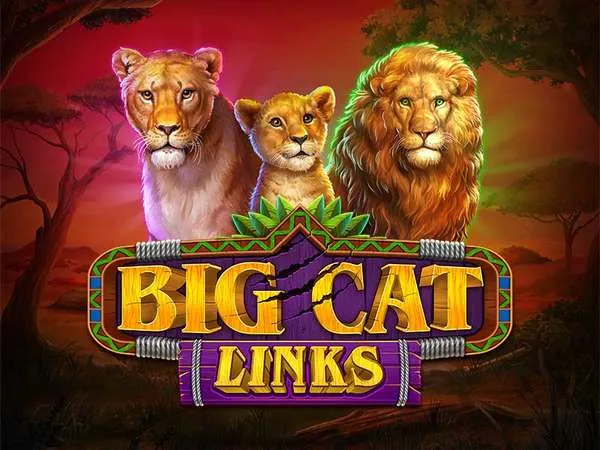 Until recently, the torrid savanna of the RTG universe was only inhabited by Meerkat Misfits - a game we thoroughly recommend as an aperitif for today's main course. Big Cat Links by RealTime Gaming adds some imposing feline company to the landscape - now, a lion pride shall roam the plains in search of the Fortune Link, one of the title's bonus features. Speaking of the other key specs of the slot machine, here's an overview before we go into detail:
high volatility;
50 paylines across 5 reels;
top award of 50,000 times the bet per line;
fortune Link, Jackpot, and Free Games features.
From this brief list, a seasoned RealTime Gaming fan will easily guess what to expect from the slot game. However, a veteran player also knows that each RTG release comes with that special icing on the cake that takes time to discover, so let us embark on a safari through this Big Cat Links slot review!
Visuals & Style
Lions are not precisely the most familial creatures, but in Big Cat Links, they somehow form a steady couple accompanying you, along with their cute cub. The journey takes place on the vast expanse of the savanna - not just a static backdrop, mind you, but a gorgeously drawn animation of sunset that fades into the night and vice versa. Lastly, the symbols are properly stylized in indigenous African fashion and contribute to the mood the artists were aiming for.
Big Cat Links Slot attributes
Top Award
50,000 times the bet per line
Platform
Download, Instant Play, Mobile
Basic Gameplay
In Big Cat Links, the classic combination of Wilds and Scatters is expanded to a power trio with Oversized Symbols, represented by papa and mama lion. While a bigger symbol does not directly translate into a bigger win, the idea is to increase your chance of hitting one of the more lucrative combinations. Given that the board has 5 reels, two Oversized Symbols may appear at once, each occupying either 2x2 or 3x3 space, thus replacing 4 or 9 other symbols.
In-Game Extras
The extras department of Big Cat Links is densely packed, so let's review each bonus feature separately.
Free Games. Free Game mode gets triggered whenever you hit 3 or more Scatters based on the recurring RTG formula with minor modifications. While the mode is active, your bet remains locked, and you may enjoy your free spins almost infinitely if you manage to retrigger the feature with more Scatters.
Fortune Link. Scoring 6 or more Coins simultaneously allows you to start the hunt for the Super Grand Jackpot. The Coins will remain glued to the board as you try to fill the rest of the board with the Coin symbols. Each time a new Coin appears, you're given a re-spin to continue your efforts. If you're out of luck before all 15 positions are filled, the game still awards a hefty payout.
Jackpot. Each spin you make contributes up to 1.5% of your total RTP to the Jackpot bank. While there is no way to hit a Jackpot in the normal mode, the Fortune Link is frequent enough to allow you to rake up enough Coins for Mini, Minor, Major, and Grand Jackpots.
Conclusion
Today's review subject has all it takes to qualify as a hit summertime game, from neat visuals to reasonably diverse gameplay. The title stays within the limits of what its creators do best, so if you are looking for a definitive RTG experience, look no further than Big Cat Links!